Friday February 3
09.30 Yorgos takes one more four-day prediction using iridium. The forecast predicts strong 30 kn winds in Santa Marta from Sunday night and Monday and his strategy to avoid this weather is: sail fast and arrive Sunday before noon. To do that we must make the next 48 hours an average speed of 7 knots.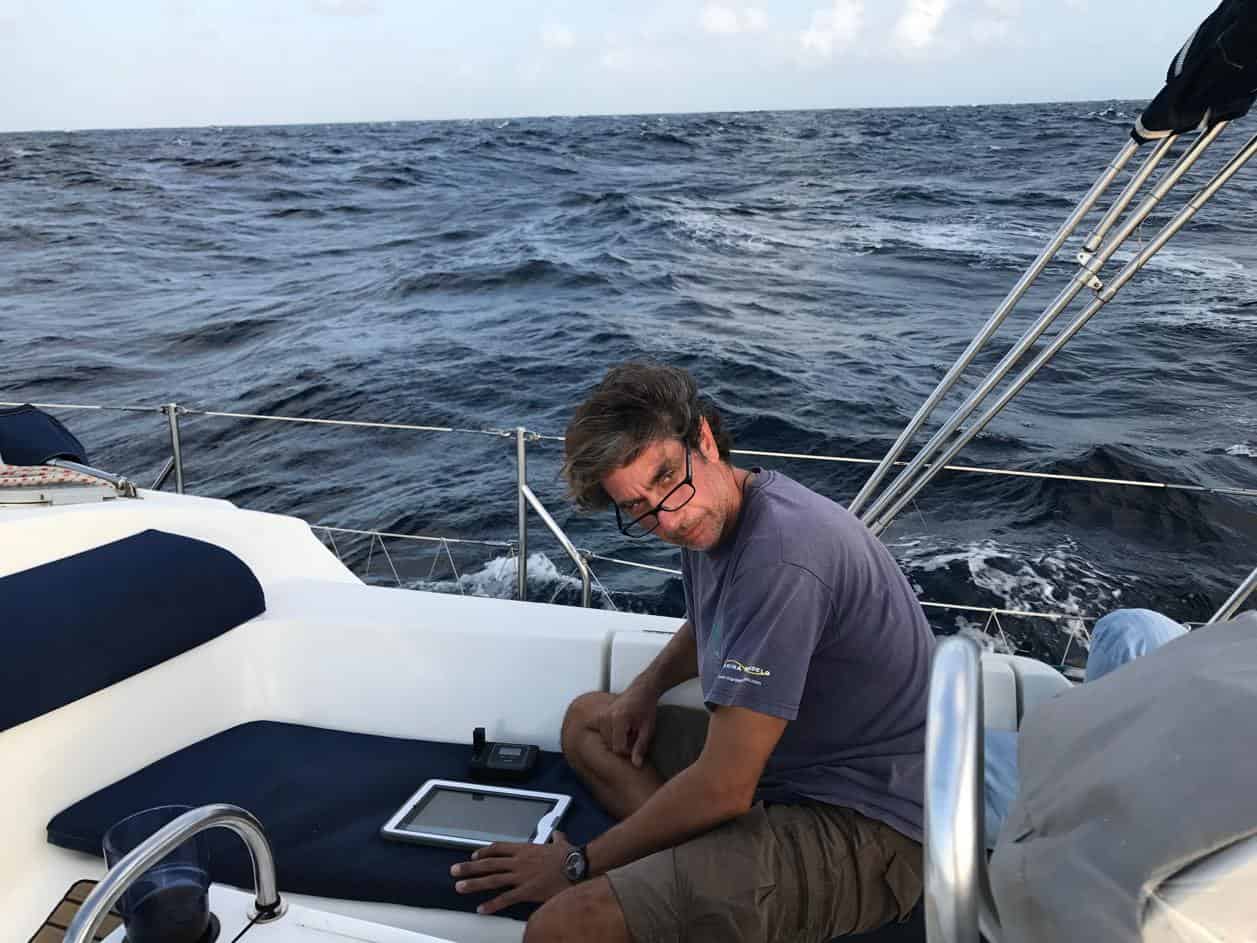 The wind today is 20-25 kts East- southeast and we hoists the main. with one reef. Bingo! I go at the aft cabin and try to sleep but after 2 hours I must have slept 15 minutes. The noises down there are too alarming to let a sailor relax.
10.30  I come back out and find the captain eating yesterdays penne- roquefort for early lunch. I join in bringing nutella snd crackers for desert:-)The sky is quite clear but for a few clouds, the waves are big but we have a great angle with the wind: we are flying.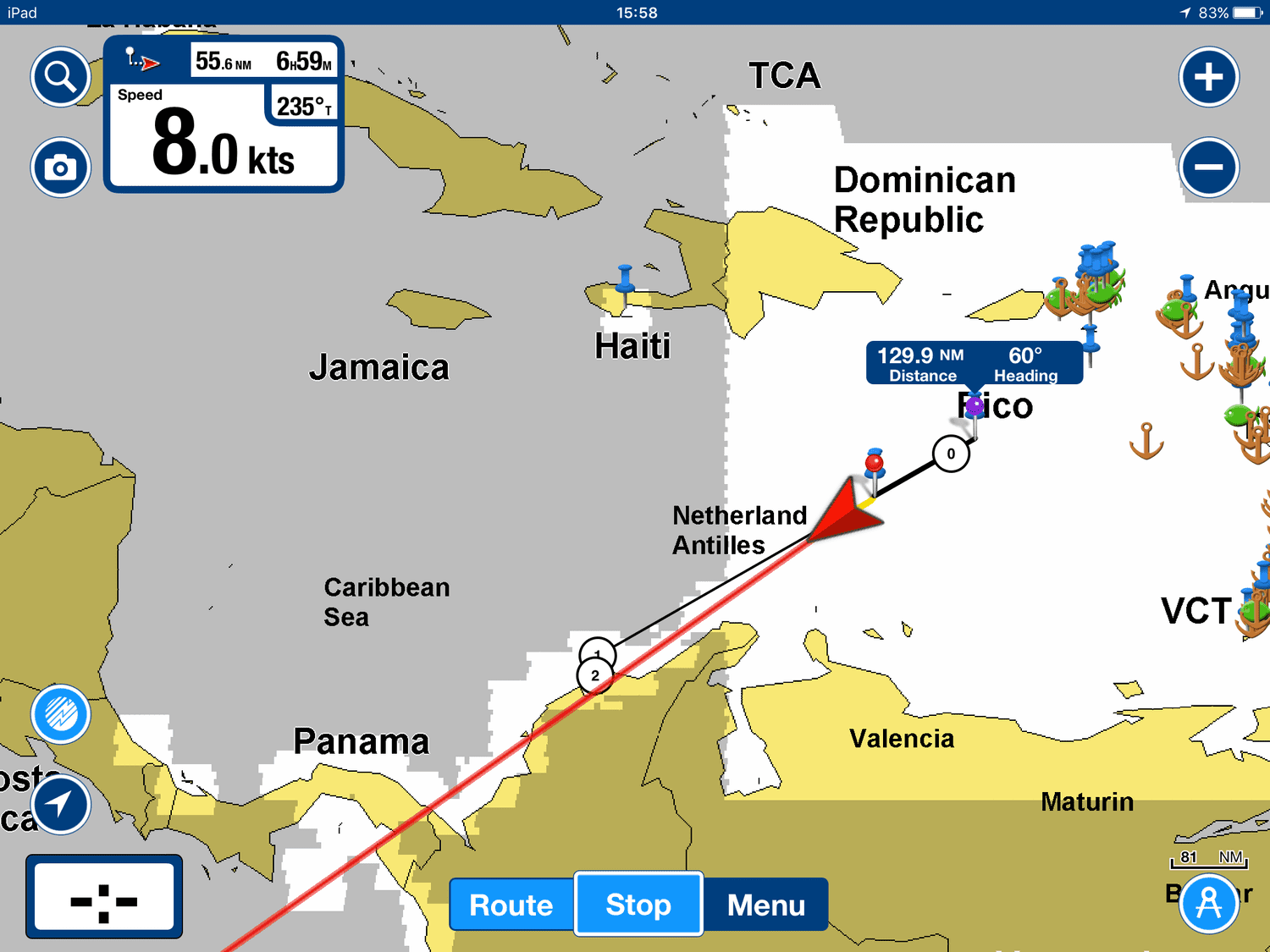 14.00 For the last five hours we are sailing fast: 6,5-8,5 knots. Yorgos tries to sleep here at the cockpit , but wakes up with every bigger wave, every change of wind speed. I prepare a big greek salad with feta cheese, tomatoes, cucumber, capers, oregano and olives from Crete and we eat along with white basmati from yesterday. A huge cloud approaches and we prepare for s squall but nothing happens. I go in the aft cabin to sleep. and even though I spend time meditating and then I let myself in the arms of Morpheus.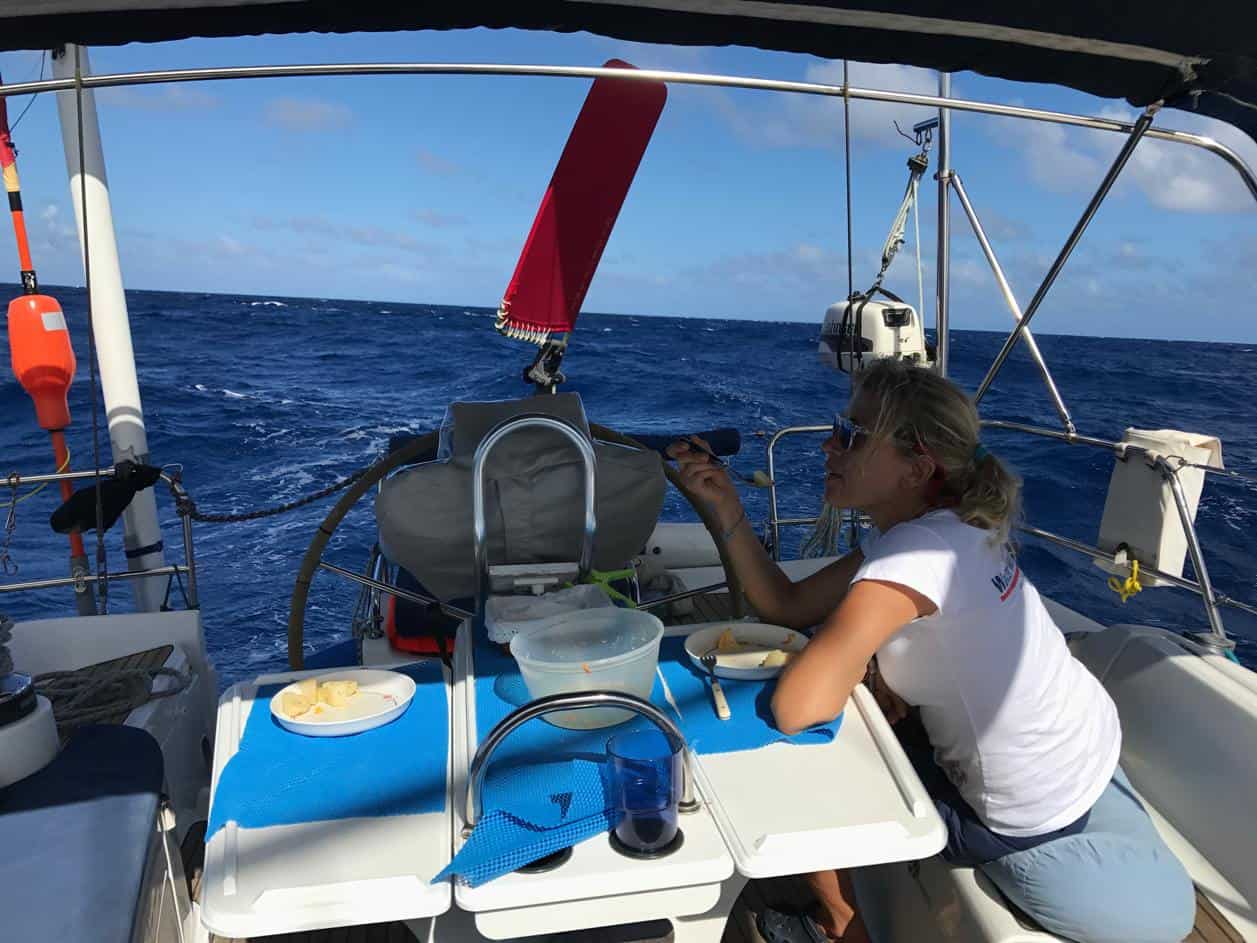 18.00 Yorgos puts the preventer for the main and I seeing that the red potatoes we bought start sprouting, cook a suffle' Potatoes, onions mozzarella cheese and creme fraiche, albight the waves. I almost forget the terrible motion.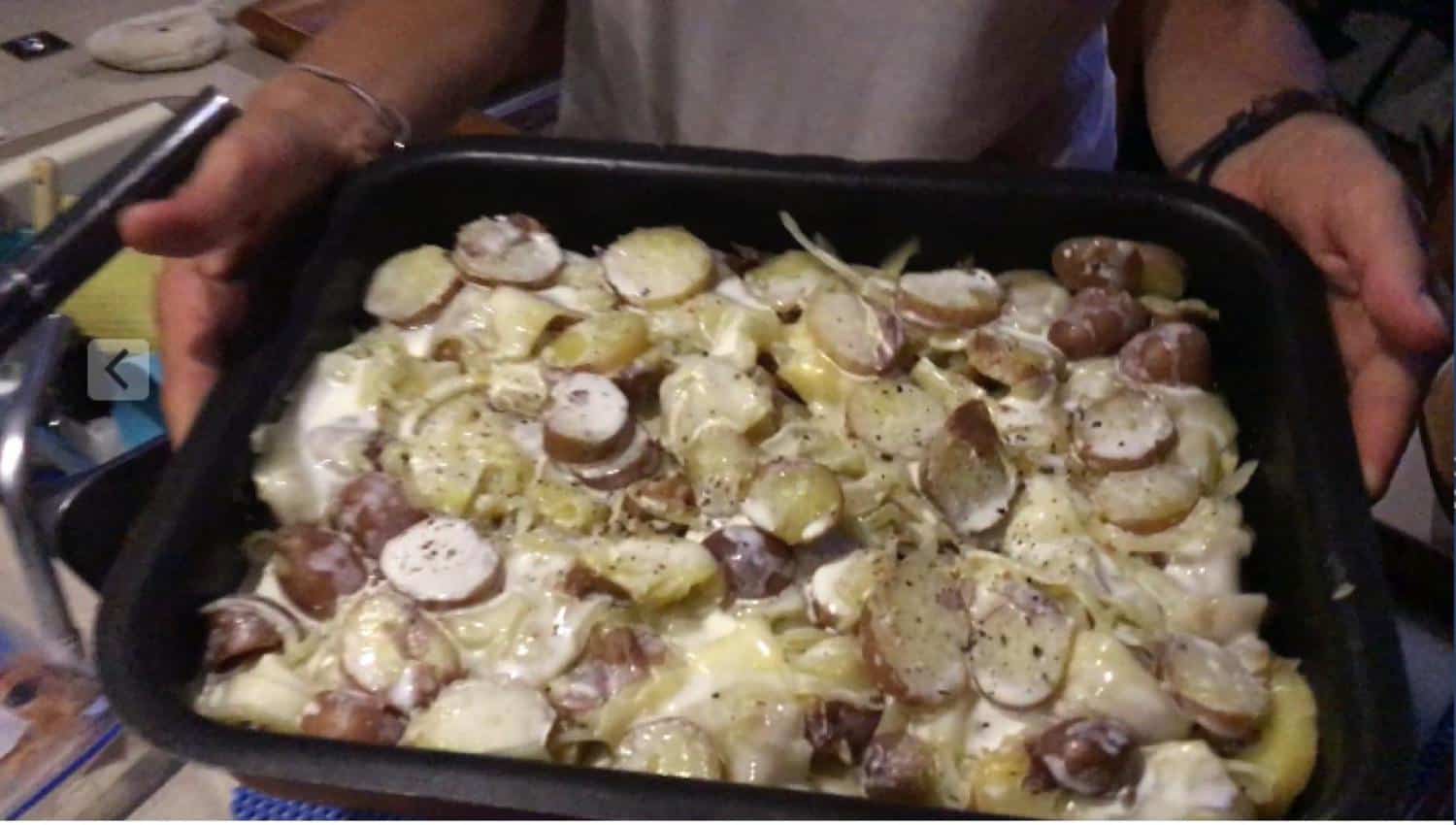 We savour the absolutely delicious food – no exageration here!- under the moonlit sky as Yorgos has folded the bimini. The wind is always present, strong, 18-22 kts , filling Filizi's sails and she gracefully swings her way above the silver-colored sea. Few white clouds float on the purple sky, only to add more beauty to this memorable evening.
We take shifts and sleep under the moonlight while Filizi flies over the waves with an average speed of 7,4. I'm curious about thr distance we'll cover this day, as yesterday with the squall and the calm , we covered only 130 NM.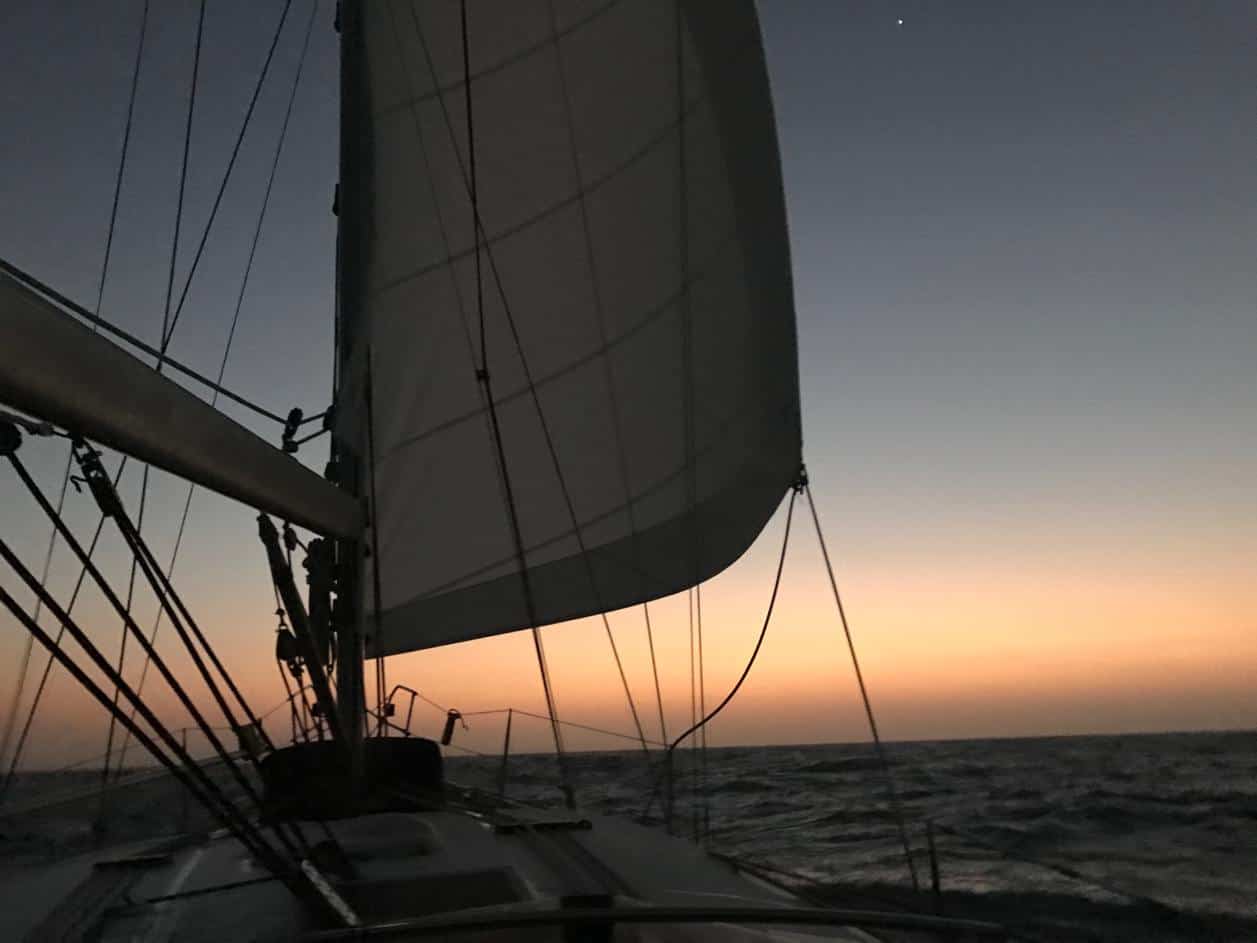 22.30 An amazing night sky tonight. At the west the half moon like a lemon slice , bright glorious illuminates the sky, the sea and the scattered clouds. At southeast the stars shine above, I see the South Cross & the castellations of Scorpion and Orion. I gaze at them as we sail fast over the waves, they are my companions in this journey tonight. My baby is sleeping here at the cockpit, and- as always – he opens his eyes every now and then and asks, if everything is alright. His face is lit by the moonlight and looks calm and beautiful. I wish he sleeps one more hour, I'm worried about his sleep deprivation- after all he's the captain and he must be strong to keep us safe.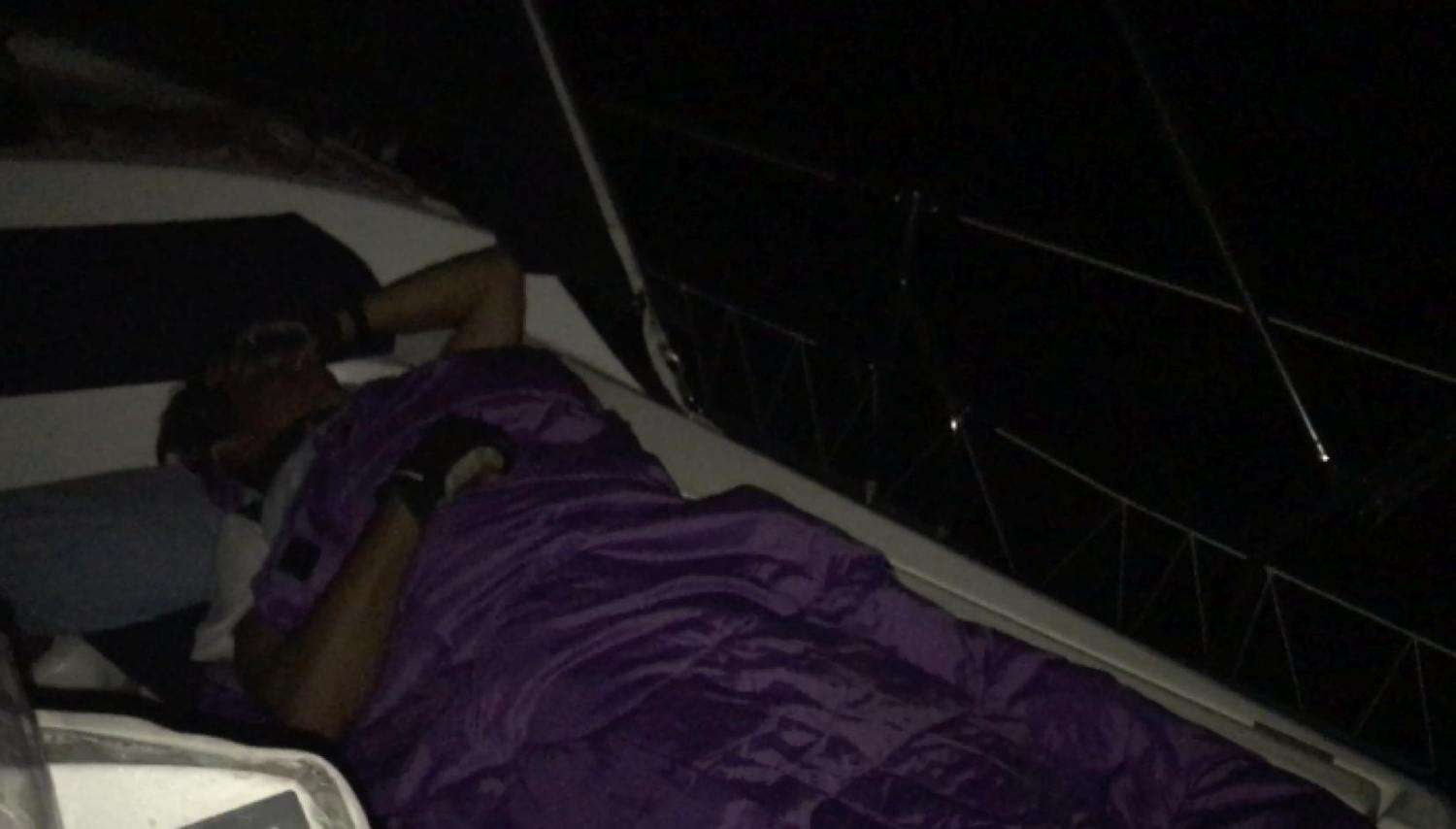 Saturday February 4
00.30 I wake up after one hour of sleep. The moon has set but we can still see clearly as the bright stars illuminate our lonely floating island. We are sailing really fast 7,5-8 kts as the wind is stronger now, up to 32 kts sometimes . As it always happens when we sail in the night, our trail in the water becomes a fluorescent turbulance, a bright line of bubbles and zooplangton.
-" Volvo Ocean Race!" jokes Yorgos seeing the speed at 8 kts
03:30 I sleep for an hour and wake up from an acking knee again. By this hour, my captain is exhausted
– " I couldn't keep my eyes open" he admits . We see a shooting star in the sky above as an old song Sleeping satellite ( by Tasmin Archer) plays in the speakers ! Enchanted, we start dancing
05.00 What an unforgettable night, the beauty of the stary sky and the fluorescent waves is overwhelming. Scorpion, Orion and Ursa Major, Centauri, Leo I study the constellations and feel really lucky for this rare dry night of sailing. Crux, the Southern Cross is at our port and Polaris at our starboard. Lucky monkey, me! Sleepy ? Not a tiny bit!! I'm dancing with the music of Moby and Manu Chao and many, many others and, although at sea level, Im feeling on top of the world. Beautiful!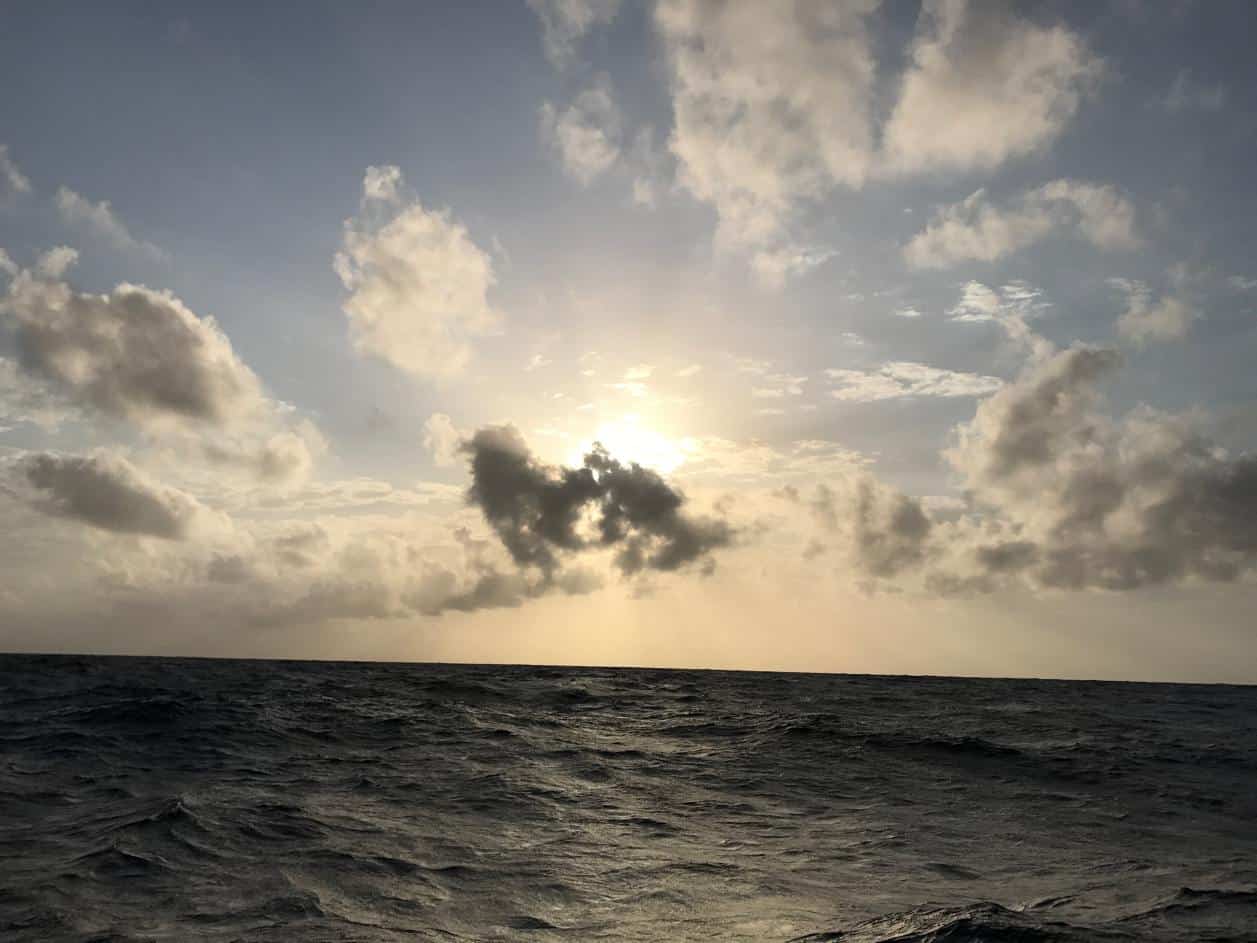 06.30One more 1,5 hour of sleep in the sleeping bag and I'm up to see the sunrise. Yorgos reports on our situation
-" The wind has dropped, it's 17-20 kts the last hour and so has our speed 6,0-6,5 kts. Twice we got hit by some big wave, while you were asleep, and I had to assist Subby vane by moving our braked tiller to the right !" he says.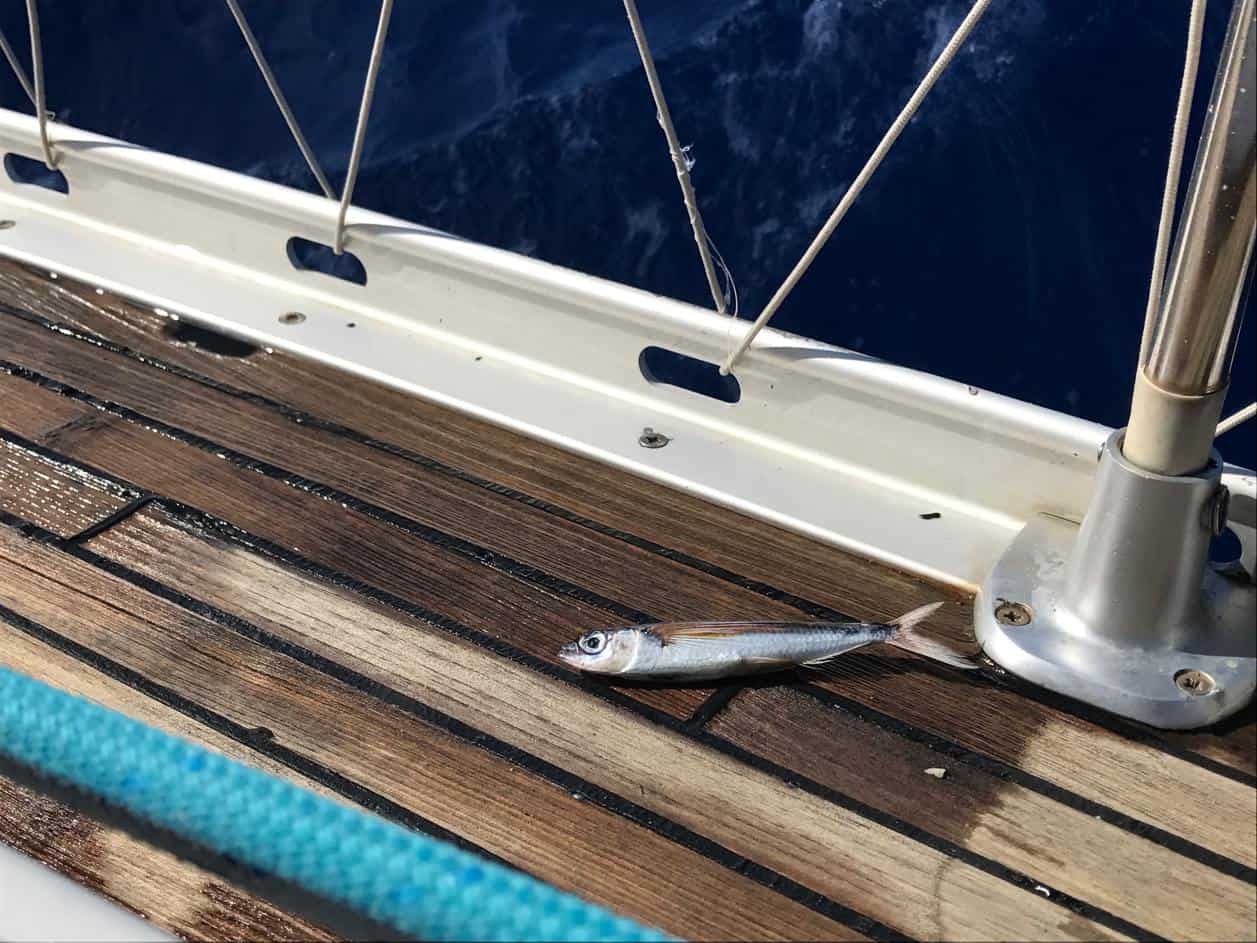 08.30 One more flying fish on our deck this morning, poot thing. Yorgos went to rest and I'm sitting in the captain's seat, doing my watch more comfortably than ever, because we put as a cushion the small fender we found floating in Saint Martin, some days ago. Funny, we lost one fender on our first season with Filizi back in 2006but,since then we have found five more! Yorgos is operating the iridium, for our email. Tatiana sent one mail for me: a new post was uploaded on our blog, thanks to Stamatis our administrator who helps with the technicals.. Life is so much  better with a little help from our friends