Marina Bas de Fort, Point a Pitre, Guadeloupe
A series of goodbyes  recently have  filled us with nostalgia. It will be many years until we see again the people and the places we now leave behind
First our beloved Martinique and the friends we left there. After our favourite, charming islands  Les Saintes with  beautiful underwater (and the best homemade ice cream in the Caribbean of course, of course)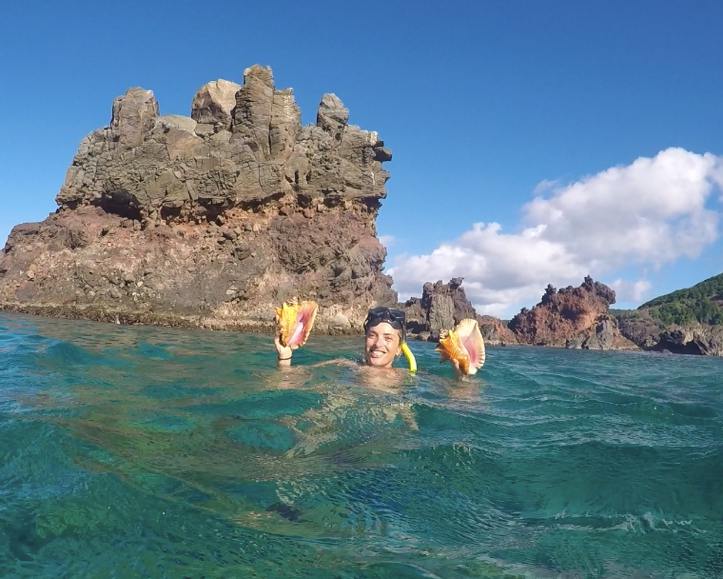 And now  Guadeloupe. We were brought here by the need to repair our generator because here is located the dealer of Lombardini throughout the Caribbean. Captain Yorgos  is very happy this repair – the change the timing belt – went well. We had to bring the spare parts from Greece  and the work was not easy because the generator is placed in a difficult area of the boat. Fortunately the expert of the Lombardi,  monsieur Yves Hecq (Mechanique Marine), is an excellent, inventive craftsman and an honest man.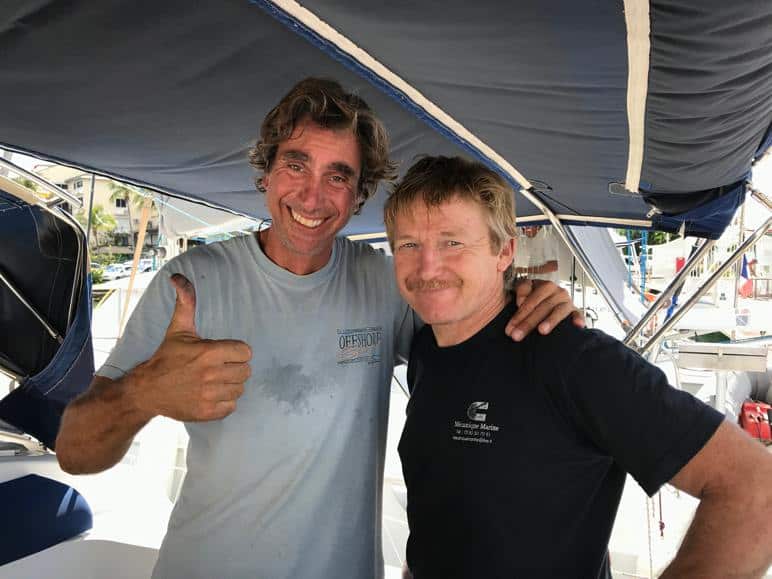 Of course with so many gifts he is usually too busy, so  Yorgo had to assist him.  Monsieur Yves insisted that we should definitely  change the exhaust of the generator. So Captain Yorgo, after consulting  Stefano, our mechanic in Athens  and the manager of Lombardini in Greece Dimitris Dimou, he  ordered the exhaust to Monsieur Yves.  For the next two days, Mr Fix-it captain Yorgos struggled with enormous patience to solve a problem with the anode of the generator and change it. When and where we will receive the new exhaust we can not tell. Only one is certain : repairs on a sailing boat never end. And every day we learn something new.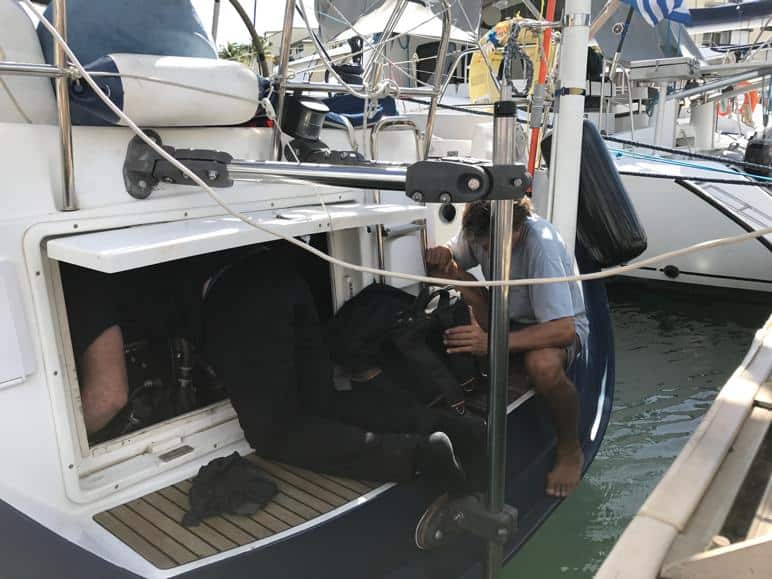 Guadeloupe ( pronounced Gwa-d'loop and the island  has the shape of a butterfly) is the landfall of the famous race for singlehanded sailors Route du Rhum – Destination Guadeloupe, starting from Sant Malo in France! The pier that we tied has been named in honor of the great French sailor Michel Malinovsky & posters everywhere around with their heroes winners of the competition. Close to Filizi was tied a boat that participated in previous Vendee Globe.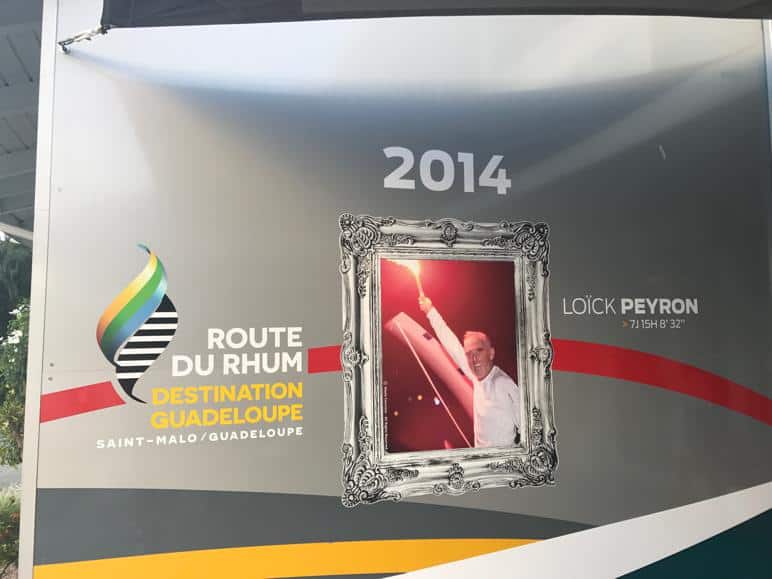 It amazes me how  natural is for French  sailors to sail to distant seas. As  Veronique, the wife of Monsieur Yves said:
– "In our homeland Brittany is very common to hear that someone departs for a  sailing trip around the world with a small sailboat. It is our nature, our history. The parents of my husband for example, traveled the world with their small sailboat for ten years. "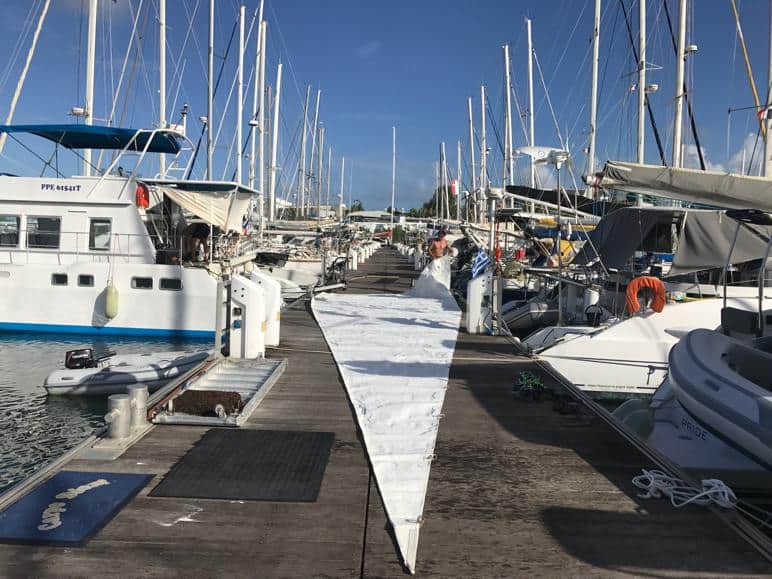 This explains why, when the Route du Rhum race begins over 800,000 people gather  in San Malo  as I read in  Hellen MacArthur's amazing book. They all gather  to wish bon voyage to the sailors. It's  in their soul, in their heart …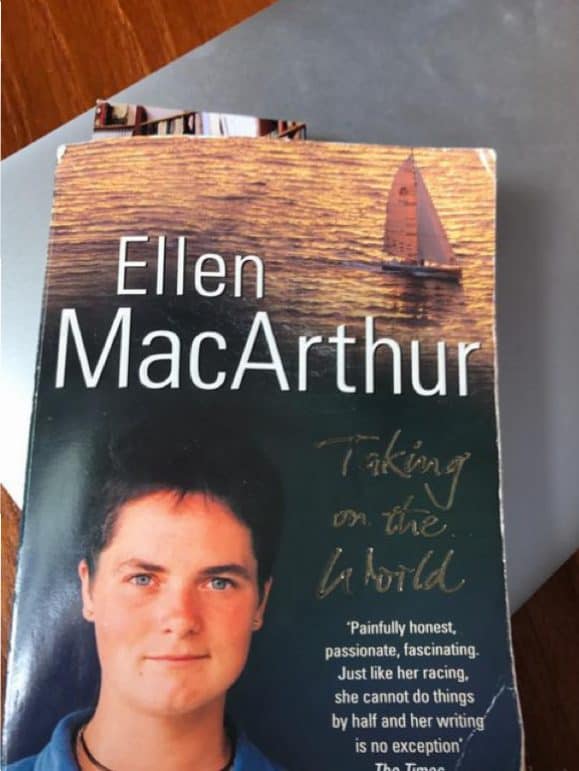 Now we sail south of Guadeloupe bound for Saint Martin- 189 NM and approximately 30 hours of their journey where they will receive the new sails Filizi.
…