November 25, 2016  Marina du Marin, Martinique
11.00 Nejat the captain of s / y North is tied next to us arrived cheerful and jovial. It has been offered since yesterday to help install of Hydrovane – have their own boat one exactly the same. Nejat and his wife Melike, arrived in the Caribbean from Turkey participating in ARC 2015, the Atlantic Rally for Cruisers. Their Hydrovane worked laborously crossing and brought them and their sailboat North safely across the Atlantic Ocean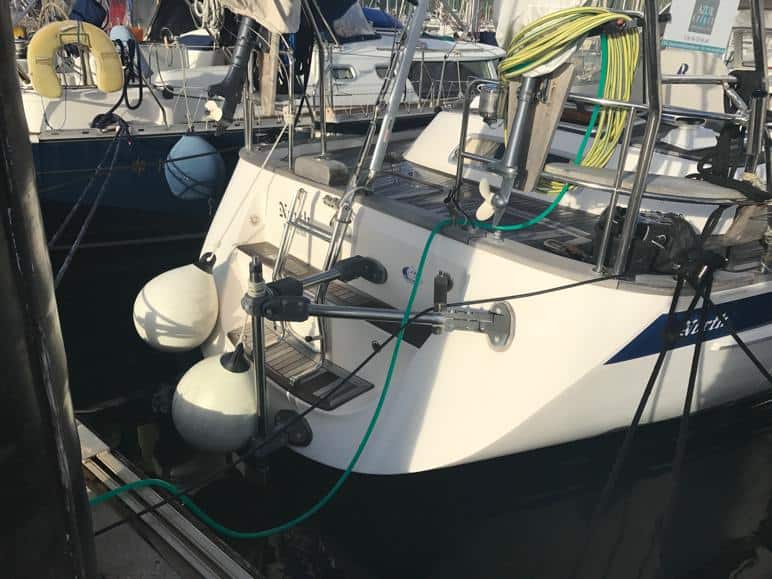 Hydrovane is an autopilot that runs on wind and does not consume electricity, which is of outmost importance during long, oceanic voyages where energy is never enough. At the same time is a secondary rudder, also very important as a boat can travel without many things but without helm she can't go anywhere! We had the Hydrovane shipped here in Martinique, and it arrived two weeks ago by Fed Ex. Our friend Maria helped with the transfer from the airport.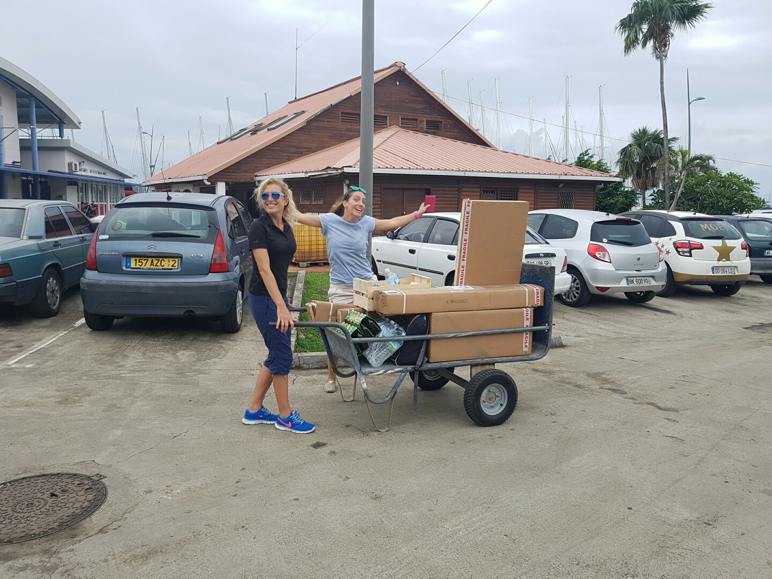 Previous days Yorgos studied the installation manual and we watched together a video downloaded from youtube. The Hydrovane implements fiberglass stern three points. Yesterday Yorgos cut and pierced three aluminum plates (backing plates) to be screwed from the inside to reinforce fiberglass at the stern.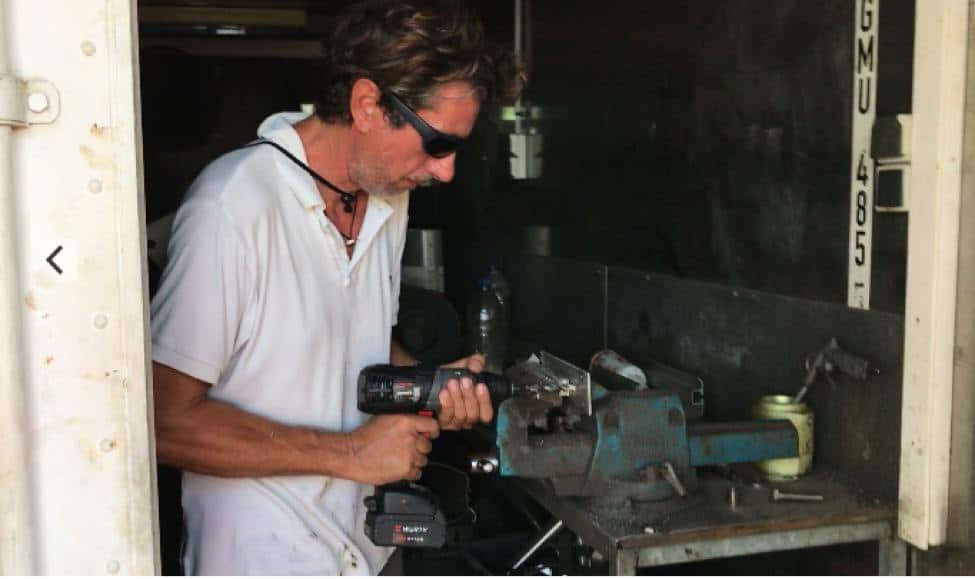 Bolts and washers arent strong enough, as the load on these points would be enormous. To avoid mishaps – eg drop a valuable and expensive part of the pilot in the murky waters of the harbor – we tied a tent beneath the transom – a great tip the inventors of Hydrovane gave us.

With the help of Nejat, Melike and our friend George from Chania – we proceed to rehearsal and first measurement. It took eight hands and two eyes from afar for this phase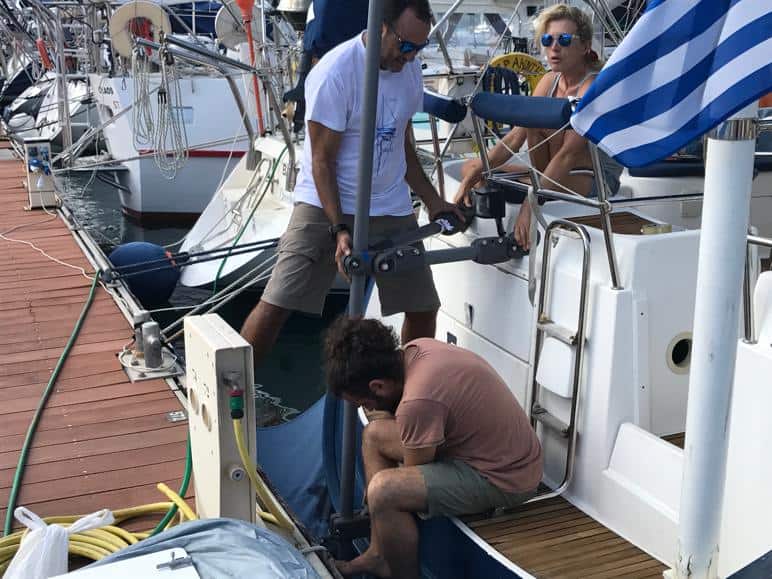 15.00 No job is not as easy as it seems especially when on the water and under the hot sun. Measure, rehearse and rehearse again. Captain George makes holes in fiberglass, screwing the bases with the plates inside, covering the gaps with Mastic Polyester, so that the adhesion to be perfect and rigid. This process must be done with great care. Nejat experience and assistance proved valuable especially for me, because if I were Captain Yorgos's sole assistant today, I'd be having a hard day….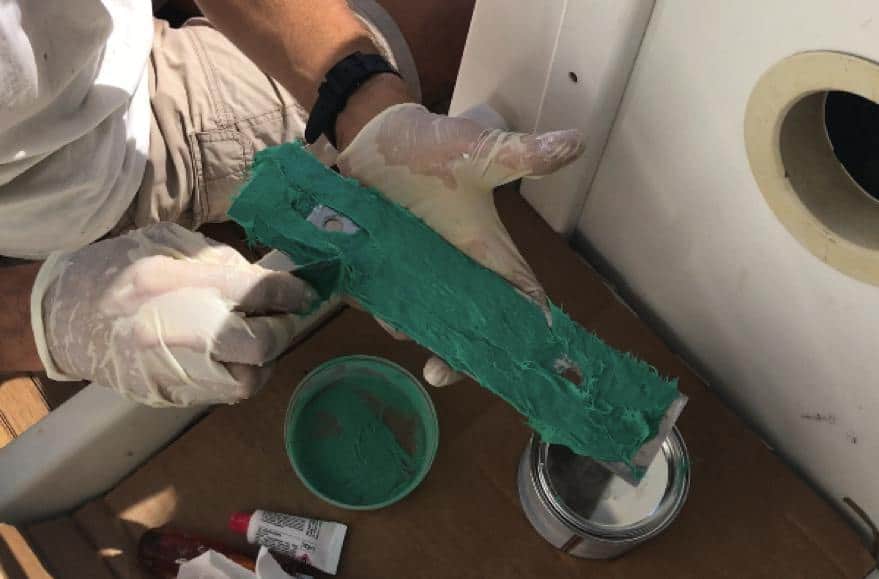 17.30 The sun sets and the sky is getting dark fast. We agree to stop and continue tomorrow. My captain starts tidying up while I run to the super market for supplies. It is my nameday today and we have guests coming to Filizi. We'll have food and music, too: George, my guitar teacher is a great musician and Mania is a very talented singer.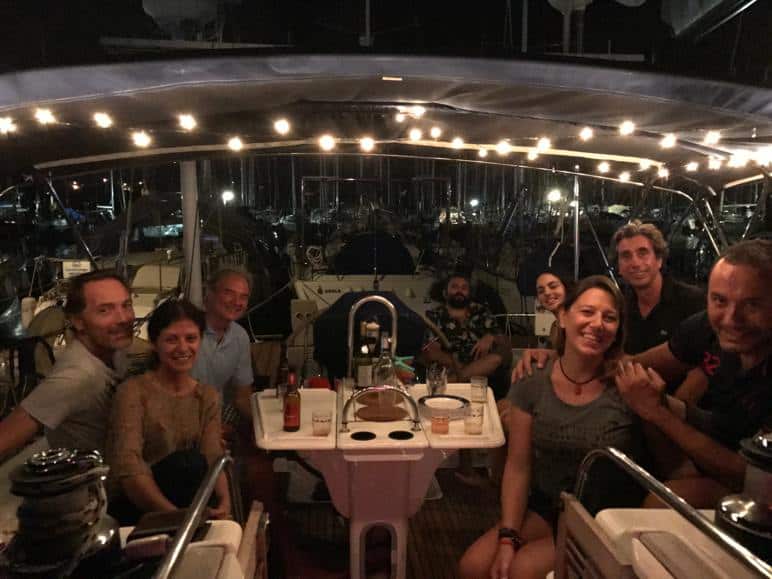 November 26, 2016
8.30 Yorgos and I woke up late today which is natural as yesterday we slept quite late. We see no sign of Nejat & Melike either, North's hatches are closed so I guess they are still asleep. We drink coffee and then go out to the pier to try fit the new dinghy cover (dinghy chap) we had made last summer in Athens as, in tropical climates, the sun is very strong and inflatables are destroyed by the UV radiation and inflatables must be protected. With great dissappointment we see that the dinghy chap does not fit well, we need to make serious changes. Maybe we can work on it later, when we get to Saint Martin. The people in North Sails loft can help us with it.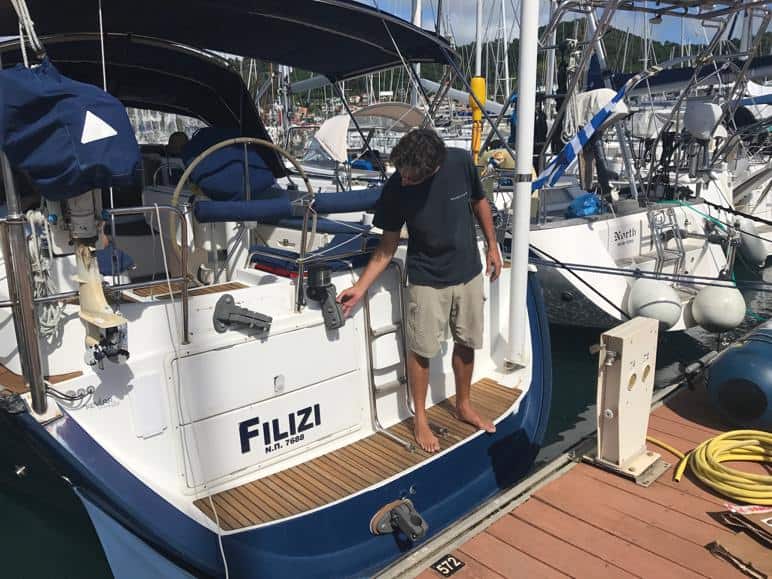 10.00 Our guests wake up and together we have a great breakfast: croissants basil, cheese, bananas, passion fruit, fresh coconut milk, bread and tahini and honey from Chania. A real feast.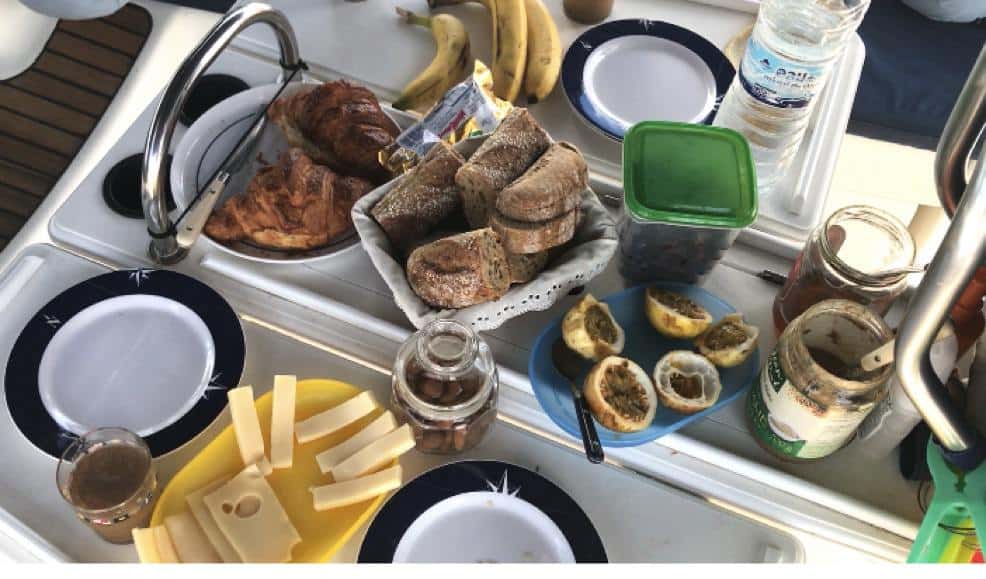 A always, Captain Yiorgos  is anxious to get going with our jobs. I turn on my…turbo mode, wash the dishes and tidy up fast. While I do all that, I'm thinking happily  that instead of  feeling tired after a  long day  and night  and after  25 days of preparations I feel light as a bird. Probably because we had such a great time last night.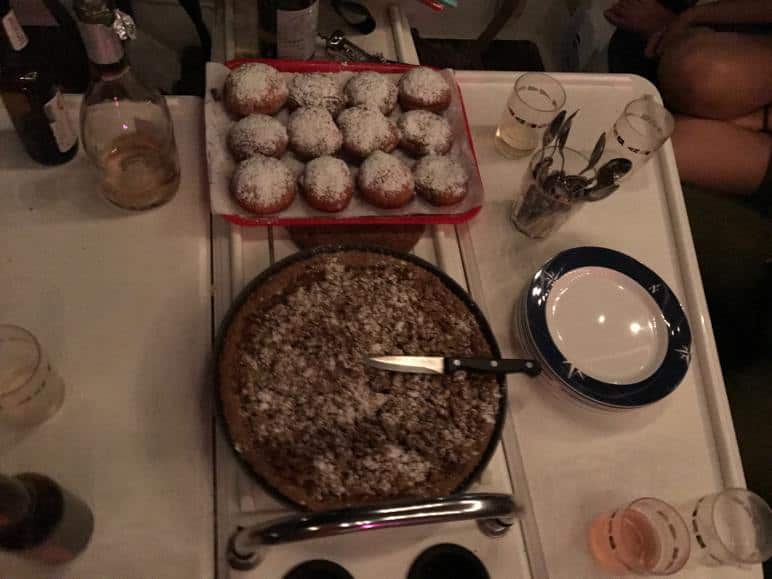 The food was good, Maria and Stavros made their  amazing pastries, delicious donuts with chocolate and – without exaggeration – the best apple pie I have ever eaten in my life.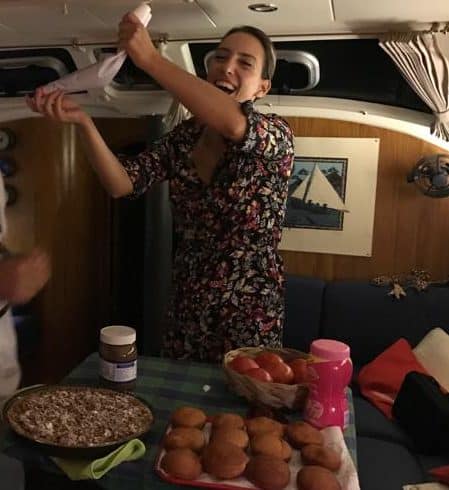 We laughed a lot, drank and sang with our great friends Maria and Stavros, Katy &  Christian, Robert, Nejat and Melike, George and Mania. Fortunately, it didn'tt rain and we all sat comfortably at the cockpit. Strange, I never imagined that  Filizi's cockpit could sit so many people people. And – a funny thing –  once we went to bed, a pouring rain started!!!
11.00 After urge George and  Mania to take our folding bikes and go for a swim. After five minutes Nejat and Melike come and we all get on with the Hydrovane installation.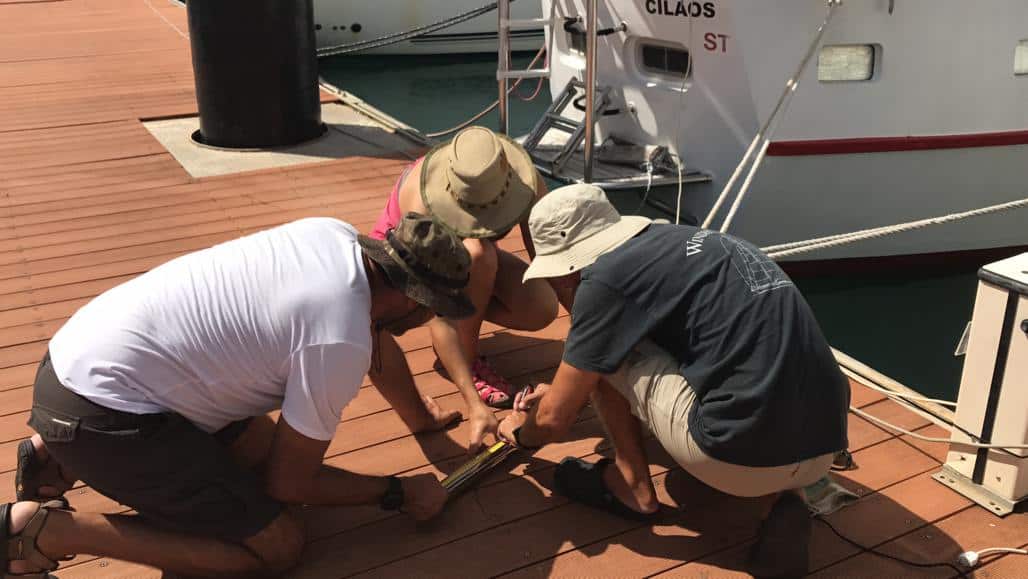 17.00 Hydrovane is installed and ready to take us to Panama and  the Pacific Islands. A dream two years became a reality.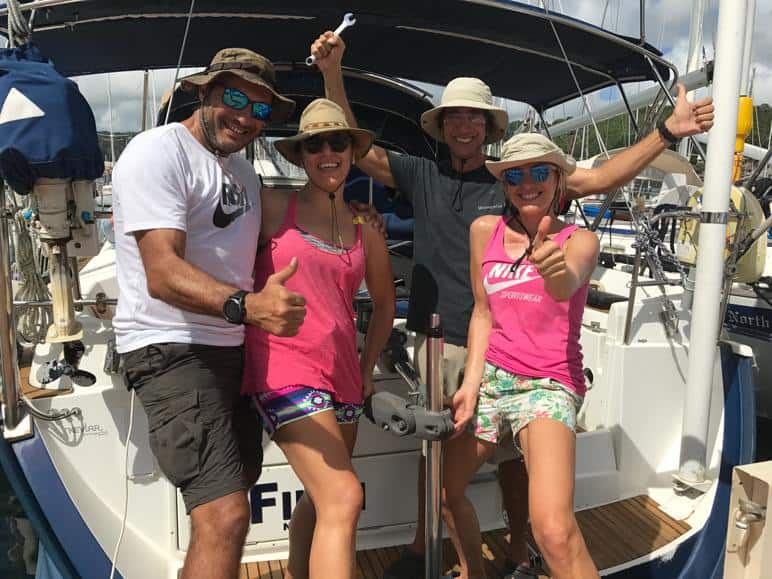 Captain George brings backgammon – Nejat has promised to play a game once the job is done. Tachtopoio tools and do departure preparation. Soon they will return children leave immediately for Saint Anne, the angyrovolio outside the bay of Marin. We want to make a splash at last. It sounds unbelievable but we are 26 days in Martinique and we enter the sea only 2 times ….