First time in Saint Barth
The first time we came to St Barth (St Bart's – Saint Barthelemy) with Filizi, was on  February 20, 2015  and the visit was not on our schedule. We were sailing from Antigua towards the British Virgin Islands,  a distance of approximately 165NM and as the island is somewhat halfway, at 72NM, we decided to make a stop over. Because of its reputation as a resort for the jet-set, I imagined it would be too expensive for us to stay more than two – three days.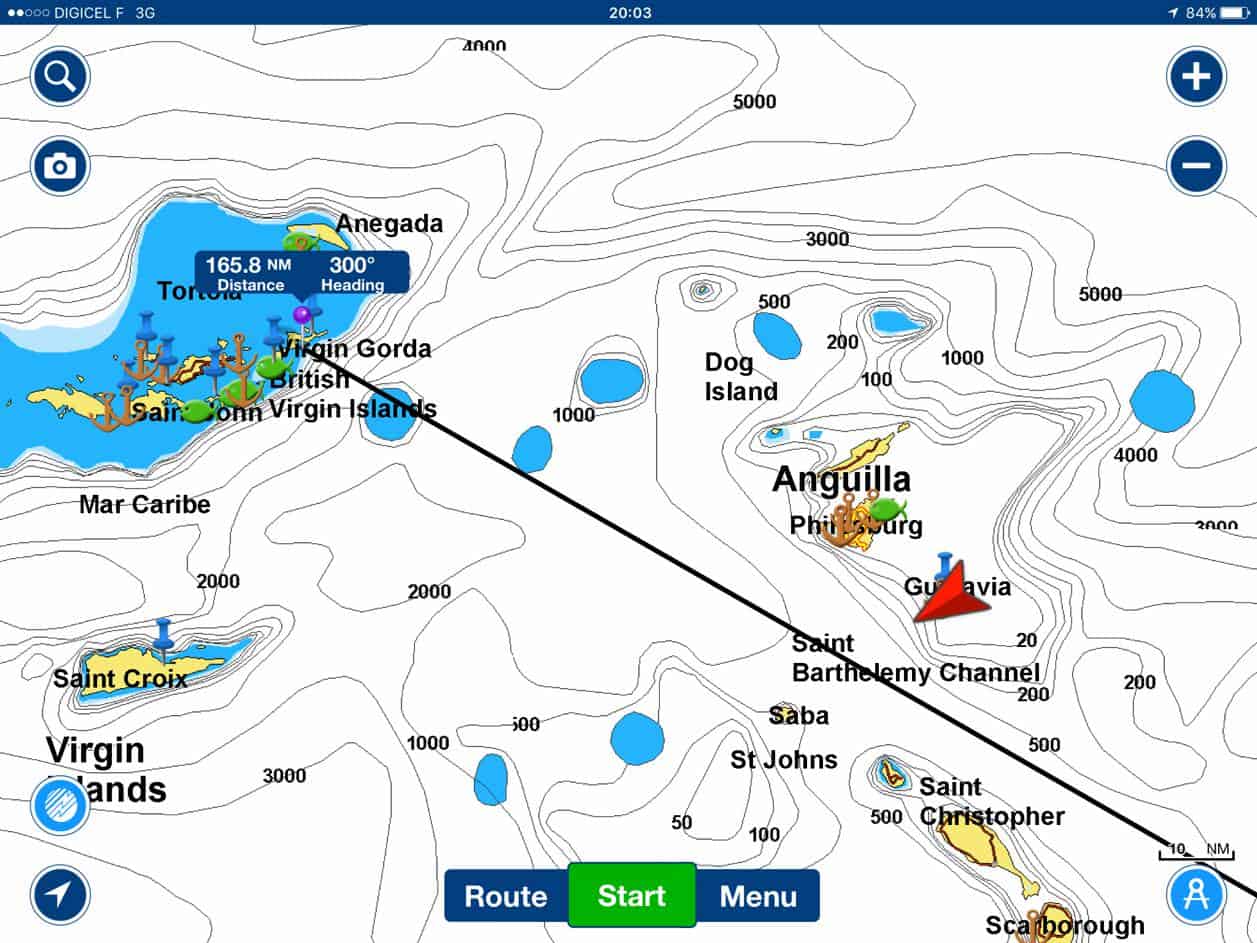 As soon as we set foot on the island, we realized that Saint Barth is like no other place in the Caribbean. Here, the majority of the population belongs to the white race and, unlike most other islands, cleanliness is excellent and the high standards of living are obvious. The first thing we had to do was to visit  the Capitainerie (port authorities) for the Clearance.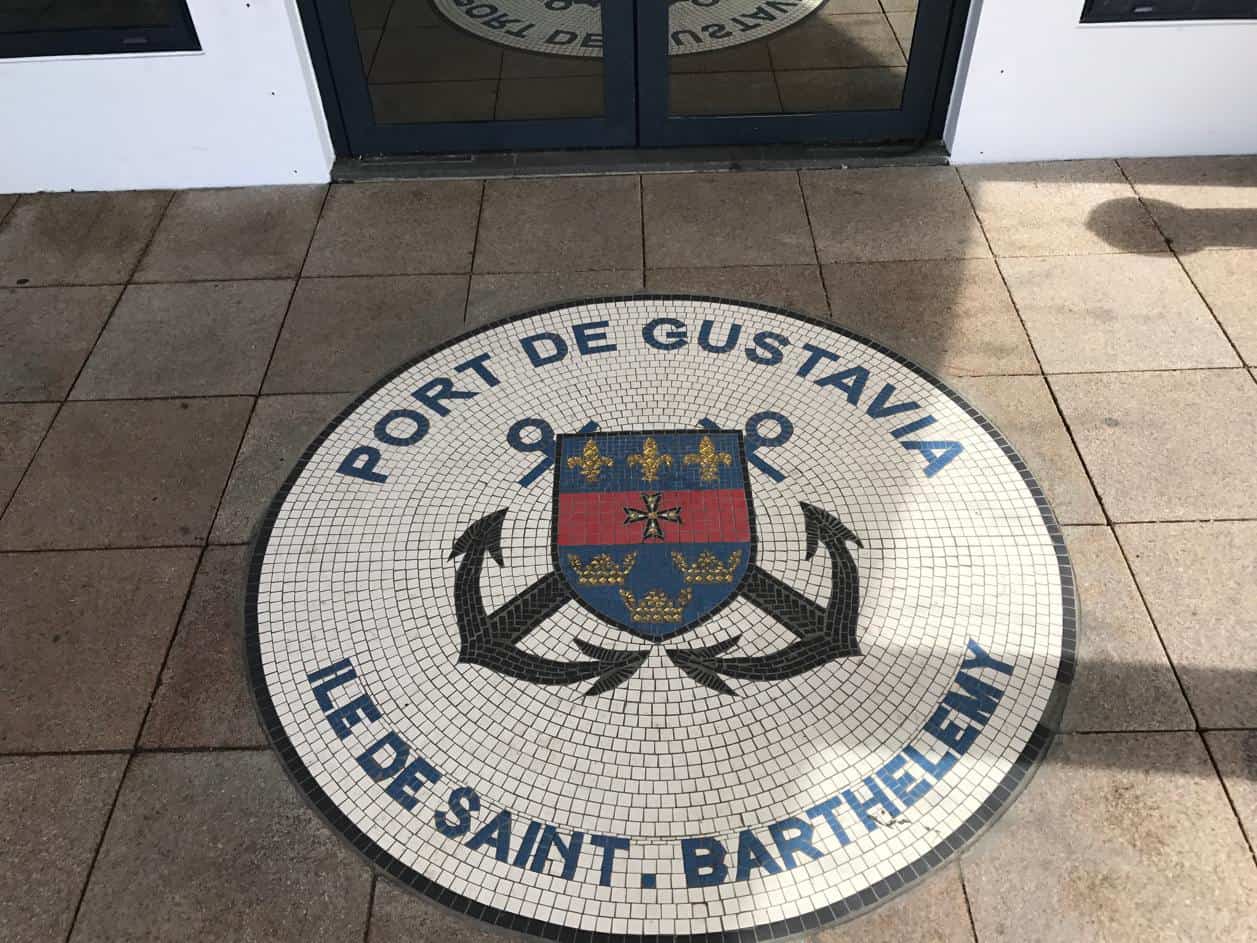 Second and extremely urgent thing to do,  was to visit  the boulangerie (bakery) for French baguettes and croissants. Cruising in the Caribbean islands  of the British Commonwealth for the last two months Yorgos had to bake in order to eat good bread.  Seated  at boulangerie Choisy, we were drinking  caffe-au-lait and I was eating my second croissant, when an electric car  stopped in front of us. The driver stepped out  and my captain looked at him wide-eyed
– "Stelios! What a surprise to find you here! It's me, Yorgos Charakoglou"
The driver was his high school mate, Stelios Haji-Ioannou.
– "Yorgo!  What a surprise indeed. I live here. When did you come?" They  embraced heartily.
Thus began  a beautiful story in Saint Barth, because when  Greeks meet in far away  places, their ties are strengthened, even if they hadn't seen each other for years. For us, making new friends in each place we visit, is really important And here we had found  a friend, both Greek and local!
Eventually, we stayed on the island almost three weeks and  had a great time because, apart from the social life, the island has tranquil anchorages,  Ile Fourchue, Anse Colombier and  great snorkelling .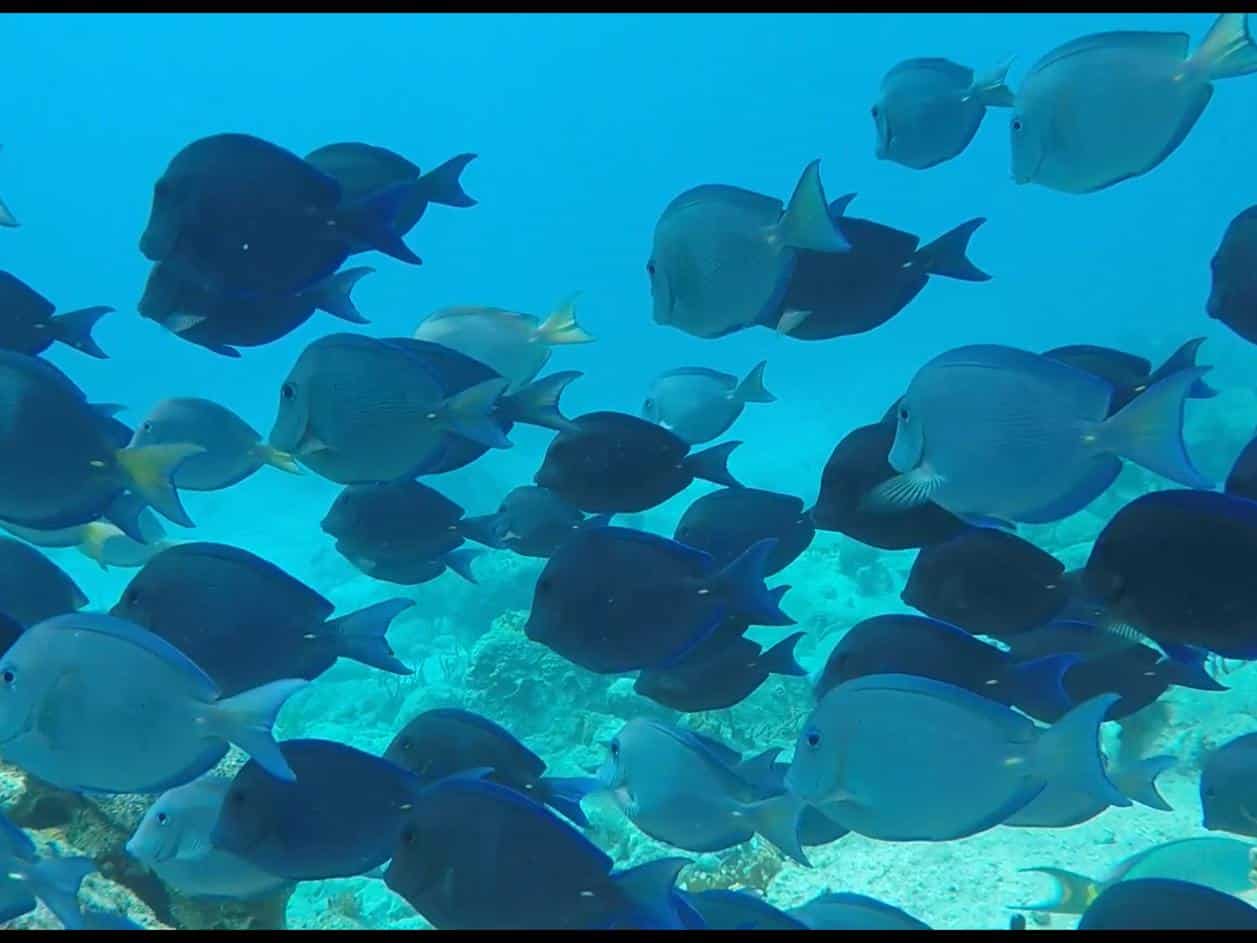 We came back to Saint Barth once more in March 2016 for  the famous Bucket Regatta, an annual three-day sailing race founded in 1995. The Bucket is a pursuit regatta, i.e a race where a handicap is calculated for each sail yacht and so, she crosses the start line in her set time.  Winner is the one that reaches first  the finish line.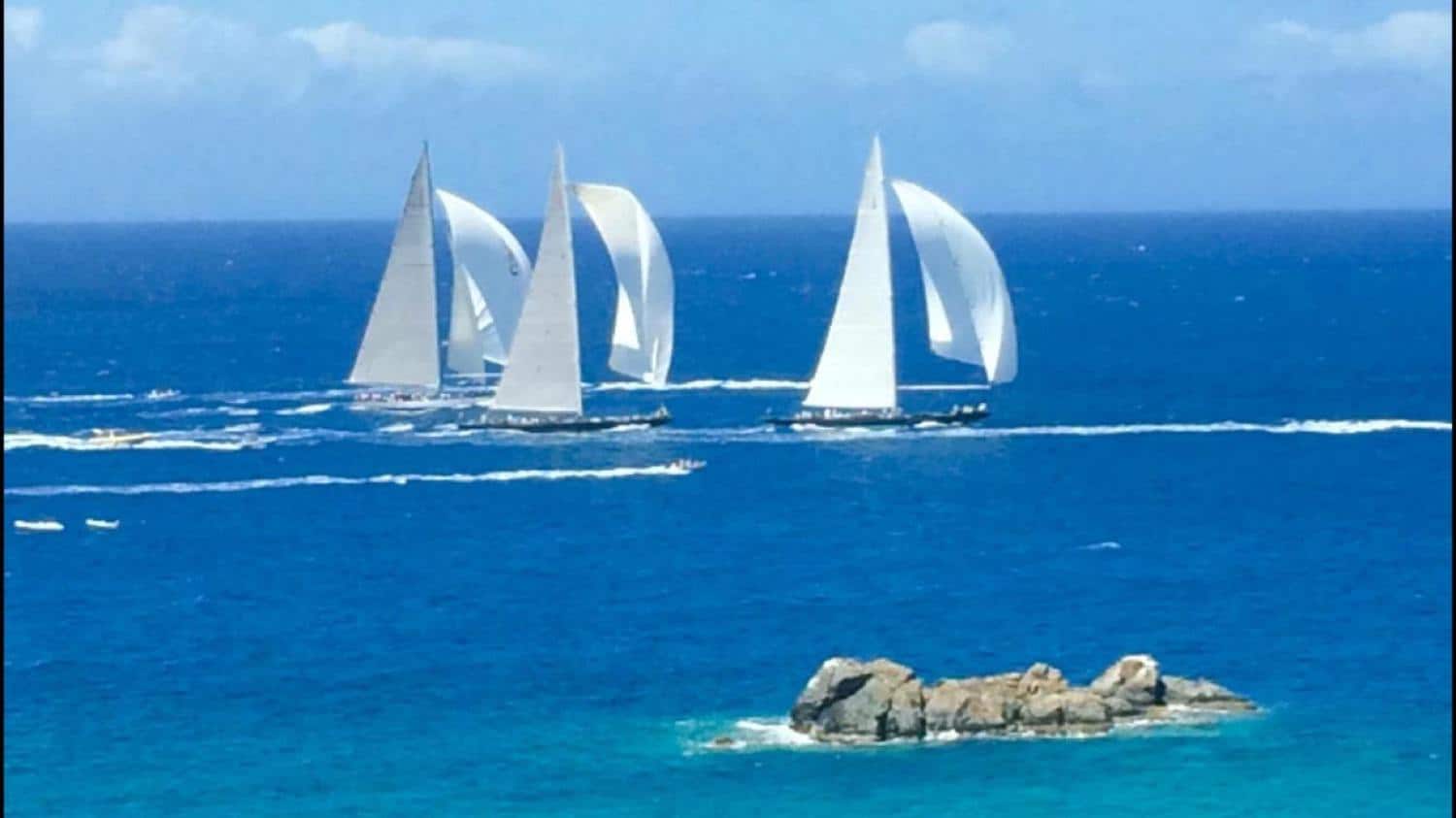 We saw 36 of the largest and most beautiful sailing vessels. with smaller the elegant s/y Wild Horses  76 feet  (we raced with her  in the New Years Eve Regatta – see previous post)  and the largest the three-masted Athena 295 feet – 90 meters long!!!  The entire island was celebrating during the regatta, crews and spectators created an amazing atmosphere. And, as Captain-Yorgos  says  "Only  sailors and billionairs  spend their holidays in Saint Barth"…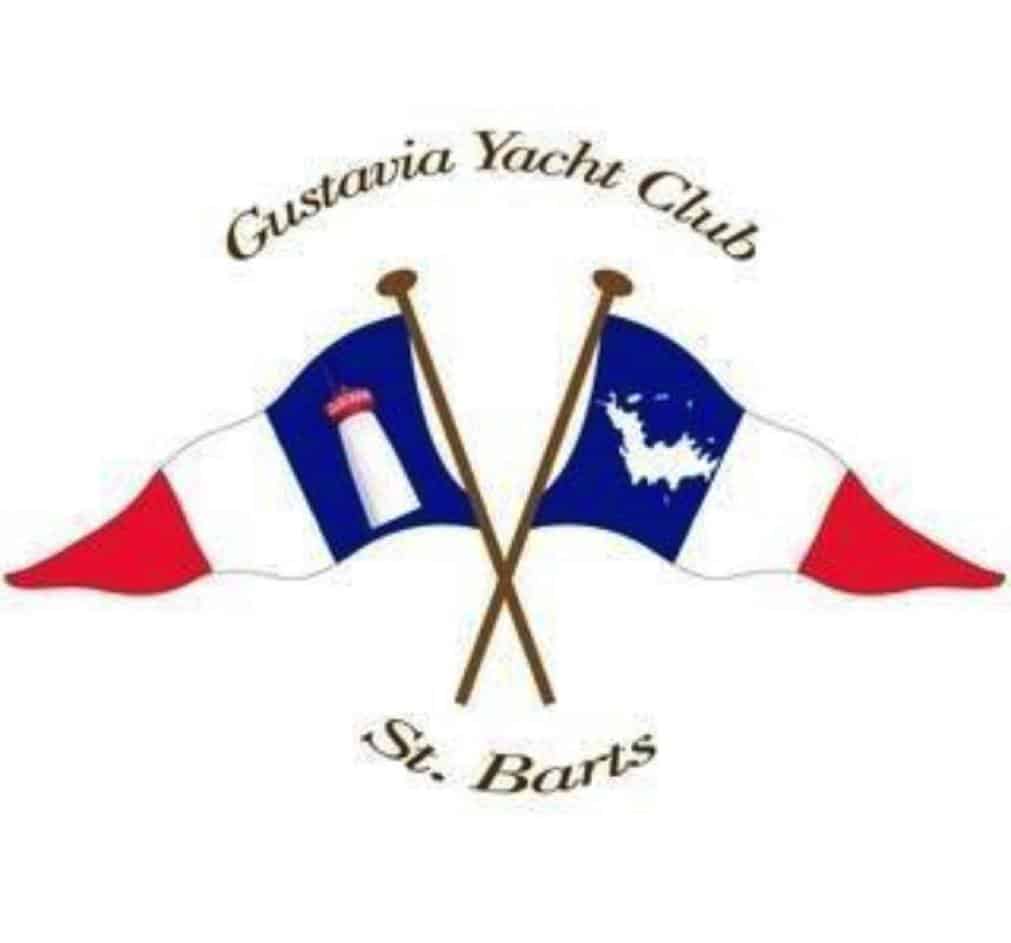 Gustavia Yacht Club
In autumn 2016 Stelios founded Gustavia Yacht Club. On December 16, 2016, on our way from Guadeloupe to St Martin for Filizi's preparations, we came back. When we met, Stelios asked about our plans. Hearing  that we are preparing for the Pacific Ocean through the Panama Canal, he proposed to make a presentation of our trip for the Yacht Club members. The next day we went to Bar de l'Oublie  for wi-fi connection.  There  we met  some of  Gustavia Yacht Club (GYC) founding members : Ken,  Garry and Jean-Pierre. Talking with Jean-Pierre, I mentioned  ​​Stelios idea. He loved it!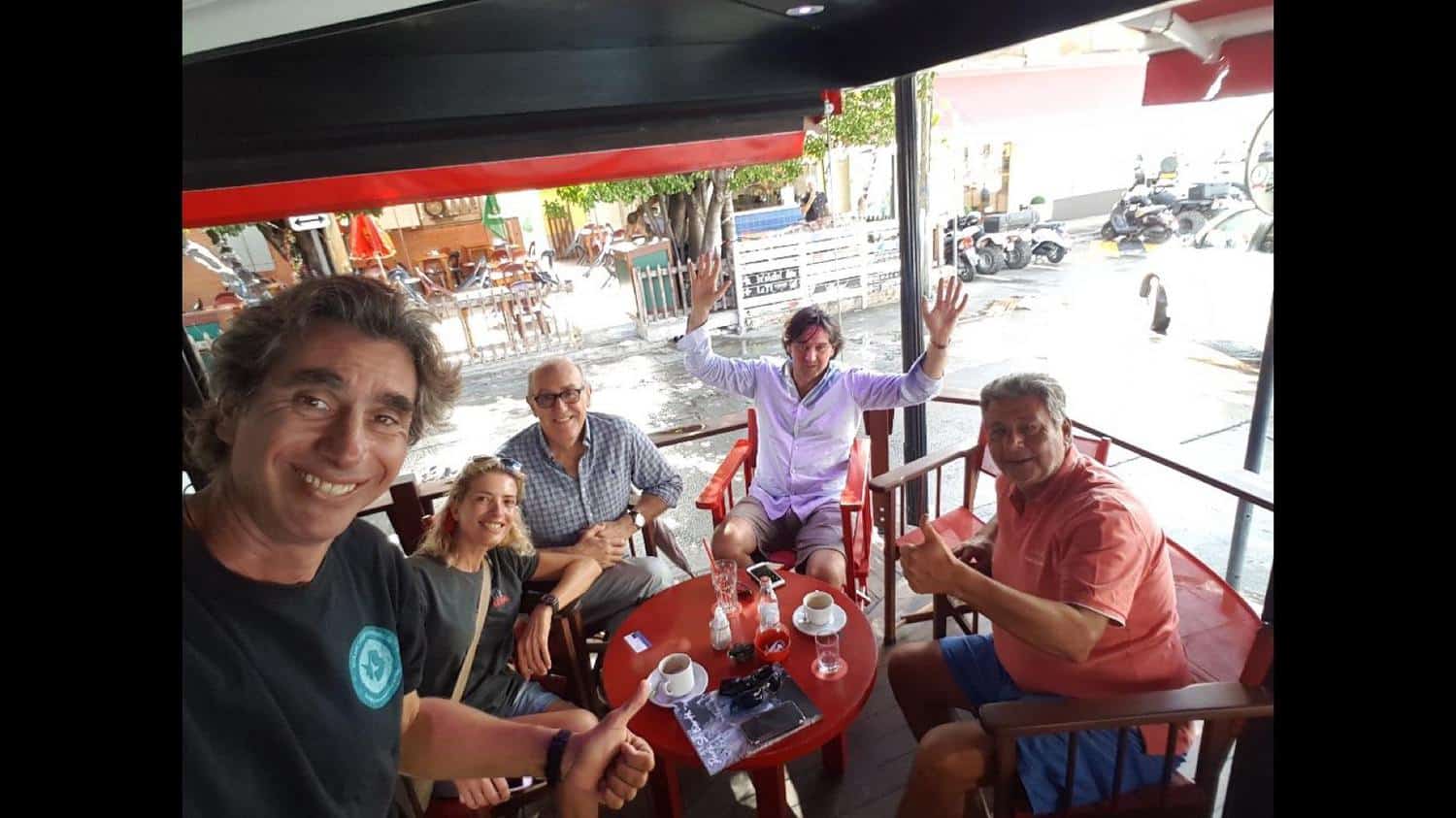 The following days, seeing everyones eagerness  to organize the presentation, we realised  that Filizi's voyage  story  is  inspiring. The presentation was arranged for Saturday, January 7 at 18:30 at the  Club House. We started thinking of what to say and how,  to capture the interest of the viewers. It is a great honour for us and we feel the responsibility to give it our all. Later, I discussed it with my girlfriend Tatiana:
– "You should certainly make the projection of Yiorgos'  films ! They are so great !" she suggested.
This was an interesting idea. The last  five  years we've  gathered innumerable videos and photos. As a way of sharing our travels  with friends  and as a way to archive our precious  images, Yorgos makes short movies. So now we had to  condense  the older and the  new material and make a new film, with duration about 20 minutes. A difficult task…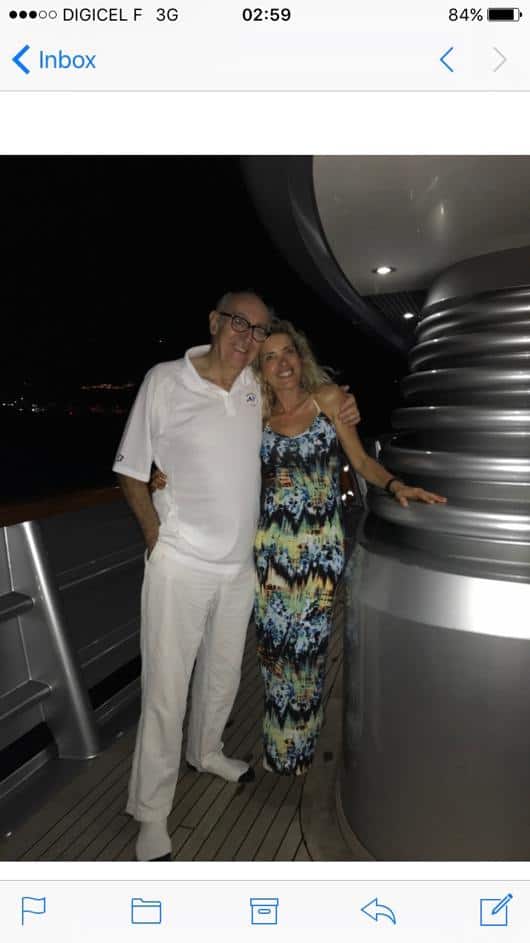 Meanwhile, Jean-Pierre arranged for us to meet  some sailor friends of his. The meeting was set  January 3rd at GYC,  four days before the presentation.
December 20 – Back to Saint Martin
We are sailing to  Saint Martin, where we'll have  our new sails delivered from  NORTH SAILS, a mainsail and a genoa, which we ordered  six months earlier.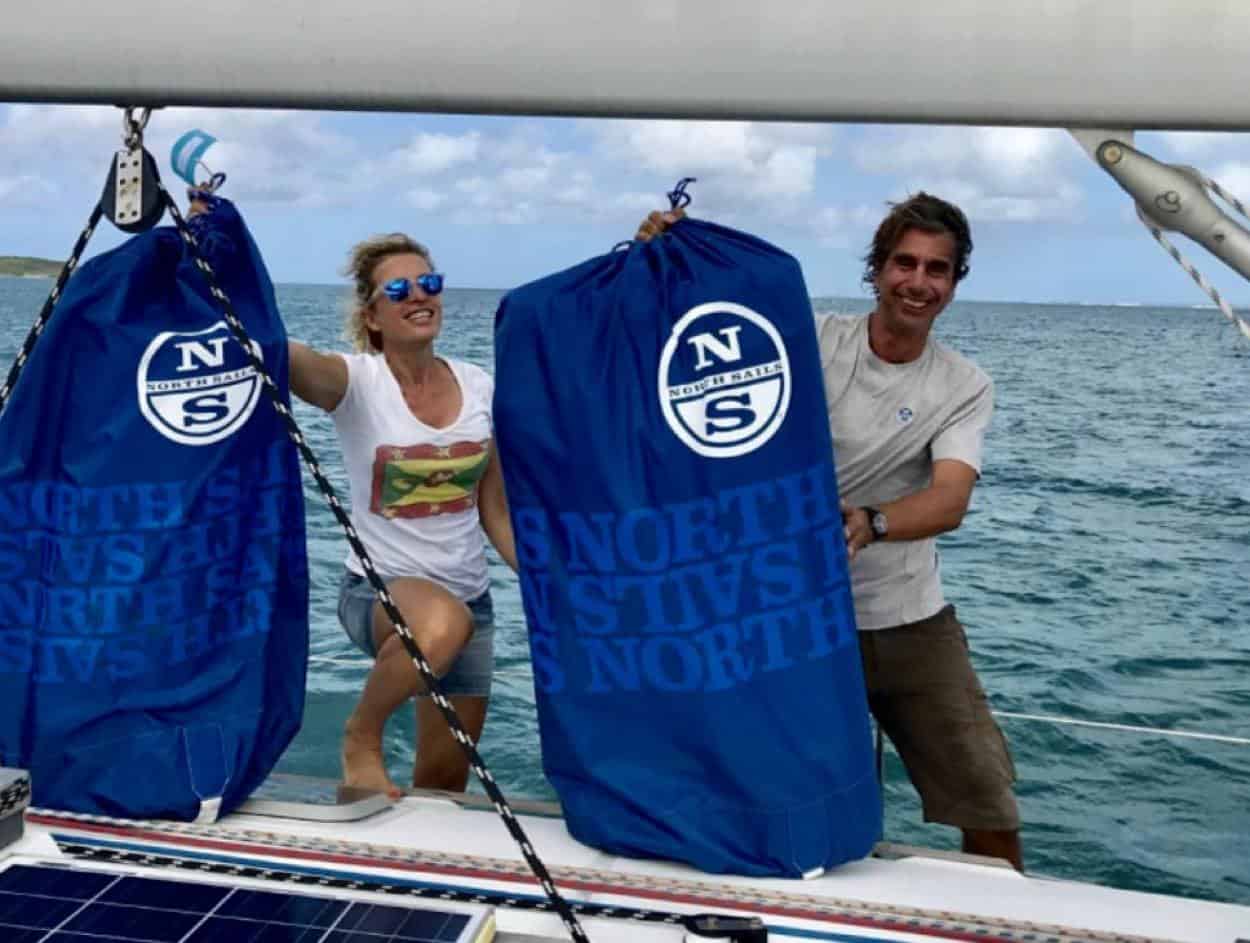 There are  many important things to organize these days. Most urgent is to choose and buy a satellite phone for safety and for the weather forecasts in the ocean. We drop  our anchor in  Marigot bay, in the French side of the island. For the next ten days,  we worked non stop.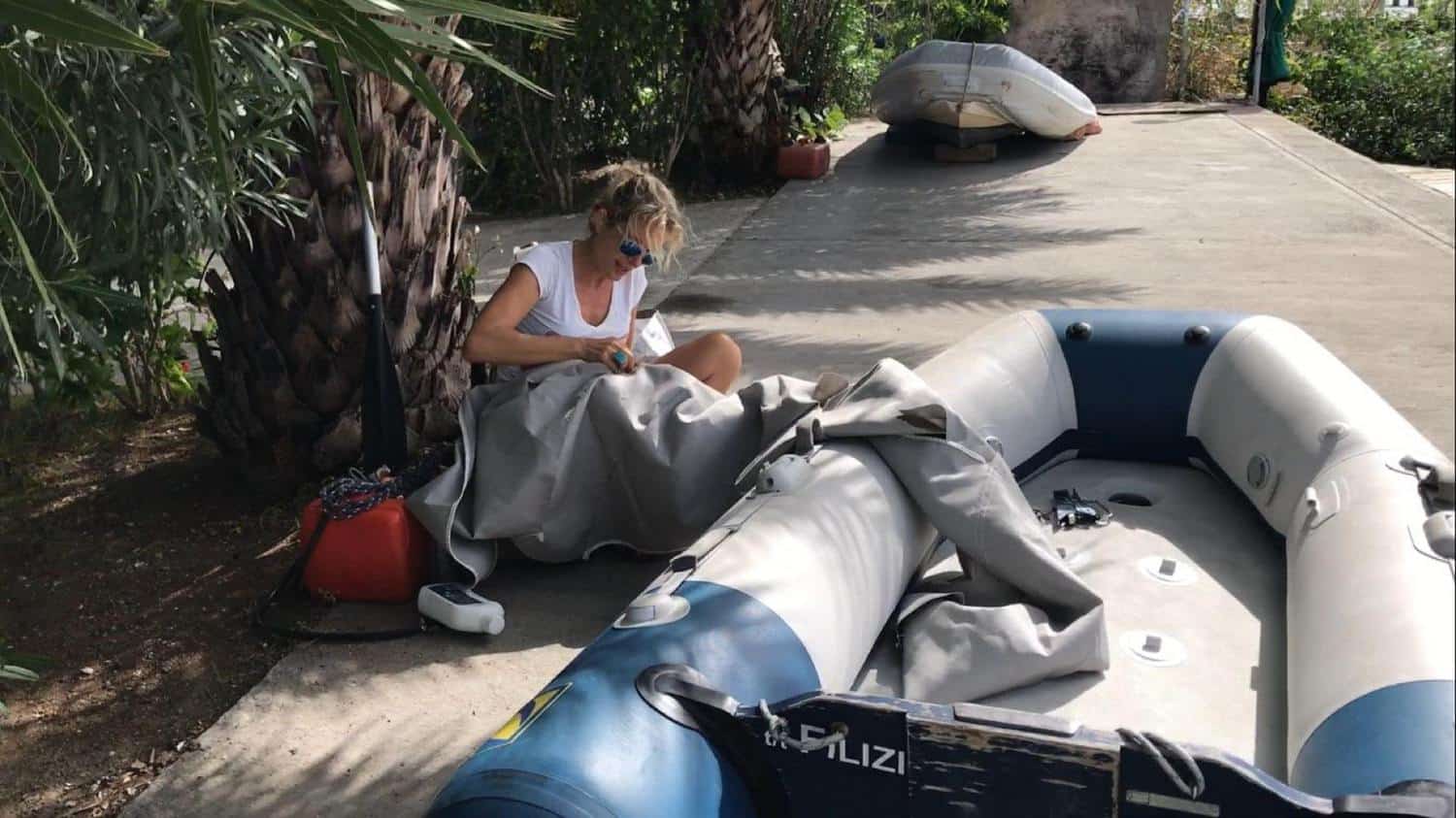 We prepared the dinghy chap,  the zodiac's cover and we enlisted  in "Paddle Jump 2017", a group of boats that cross from Panama to the Marquesas. We did research in the local and the Panama shipyards for Filizi haul out and searched endlessly for various spare parts. Finally after great consideration, we ordered a satellite IridiumGo!  from AMAZON.com. Our dear friend Dan who's coming from New York to visit us, will bring it to Saint Barth for us. Perfect. But before Dan arrives we must have prepared the presentation and the movie. So we'll be free to spend time with our friend …
29 December 2014 – And back to Saint Barth
06.30 We decided to sail to Saint Barth today and fortunately the wind has dropped a bit. We make  strong Greek coffee, drink it and 07.o0 we take the anchor. It is about 25 NM trip to Gustavia, Saint Barth's harbour,  heading southeast at approximately 150 °. We'll be sailing close-hauled,  with the ocean waves against us.
07.30 The daily NET, an amateur broadcast for sailors starts on the VHF and, naturally,   it begins with the weather forecast
– «…The Weather will be clear to-day and no rain is expected until Saturday night. A great chance for a dry out "…."
Great news as it has rained a lot the last few days. We motor up the north coast of Saint Martin with the main sail on the first reef. Once we round the eastern cape and Flat  island heading south, the squalls start  coming one after another.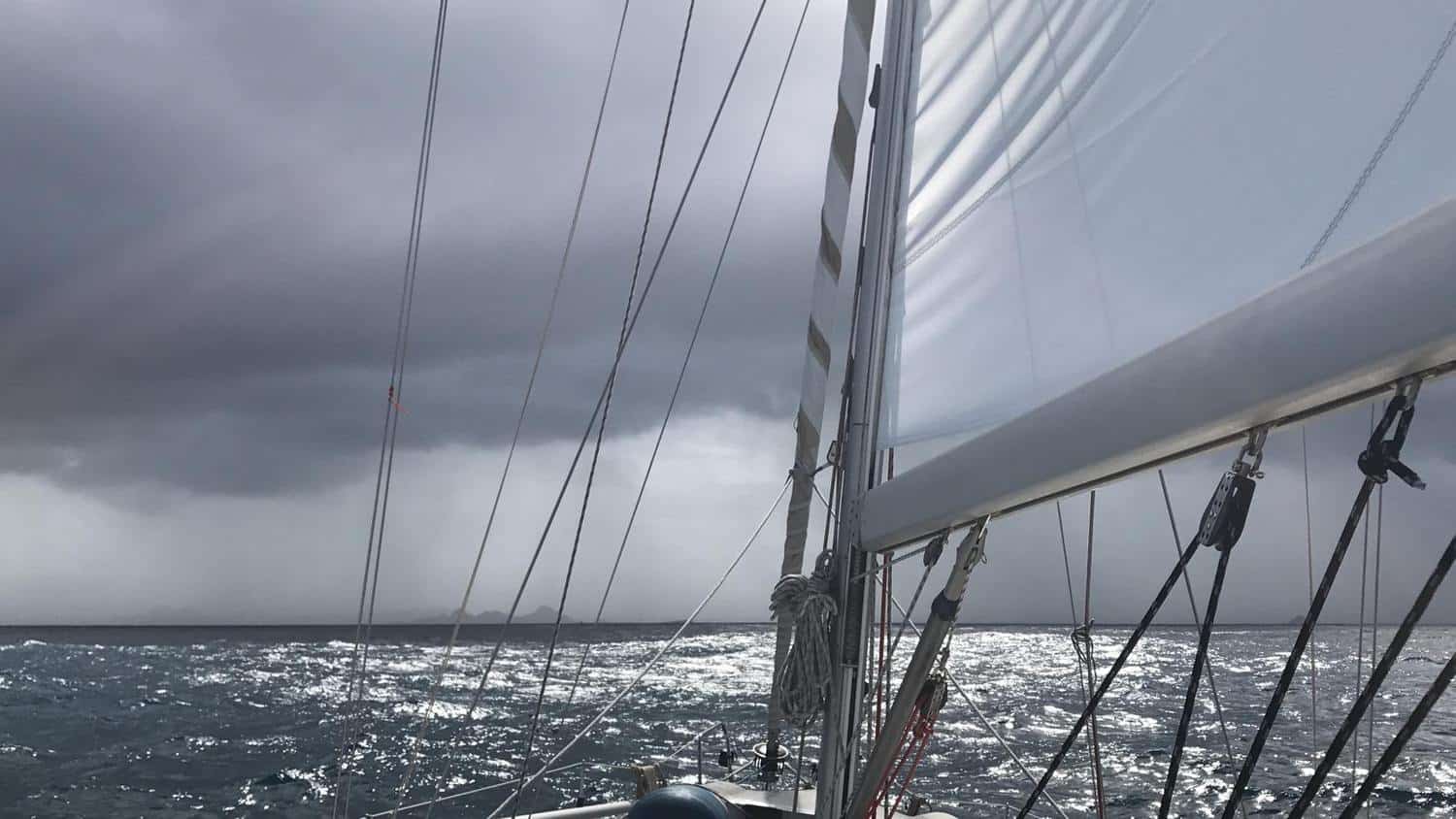 A massive band of dark cloud covers the sky to windward. Slowly but surely the led- coloured clouds  approach. The weather forecast was far from accurate!  Even though we are soaked again and again, the trip was really fun. At 14.00 we arrive in Gustavia bay. There the situation  is beyond imagination!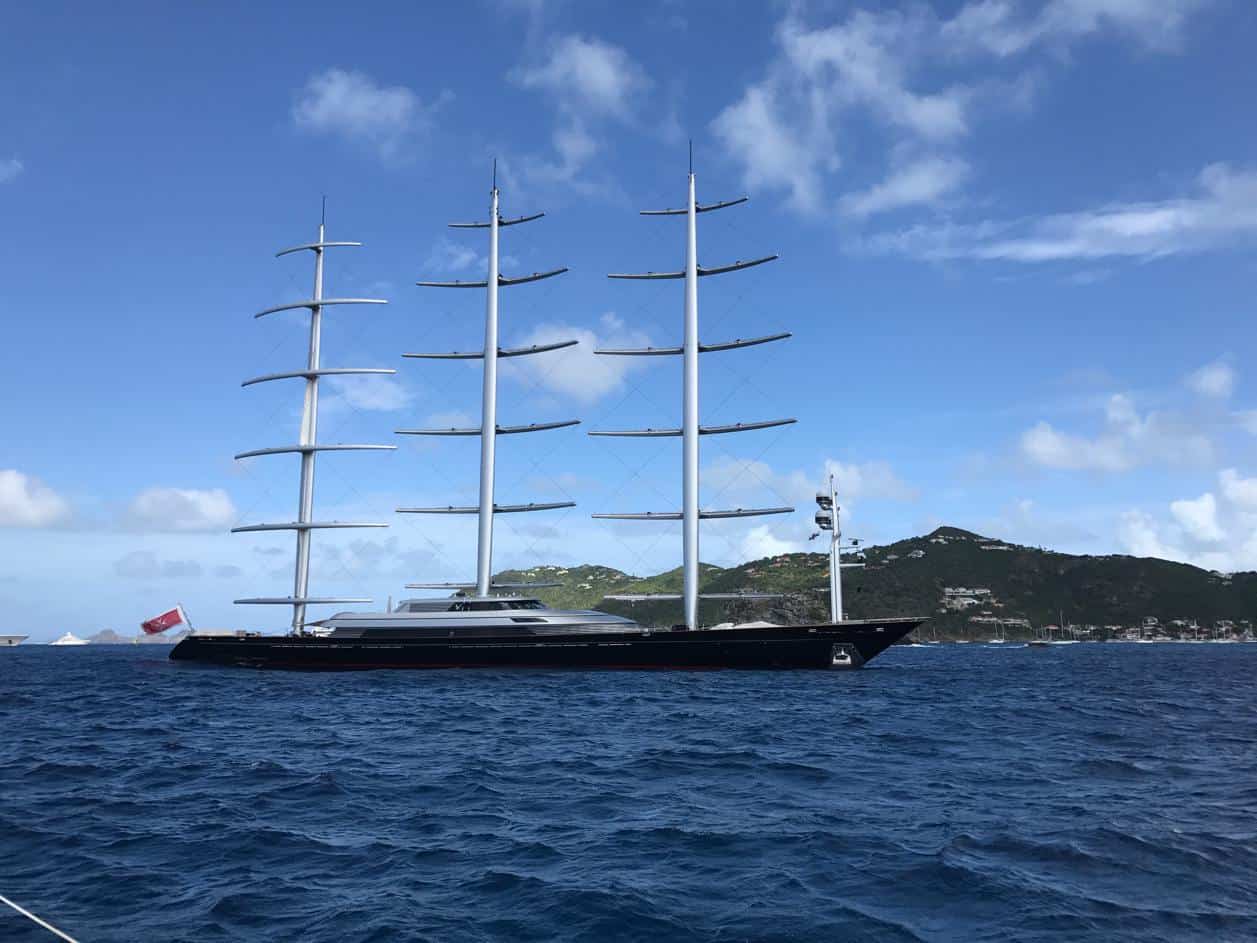 Superyachts, megayachts & super-mega-yachts, probably the largest in the world are all anchored here. Passing beside the giants, we go looking for a spot to anchor. We've never, ever seen so many huge boats at once.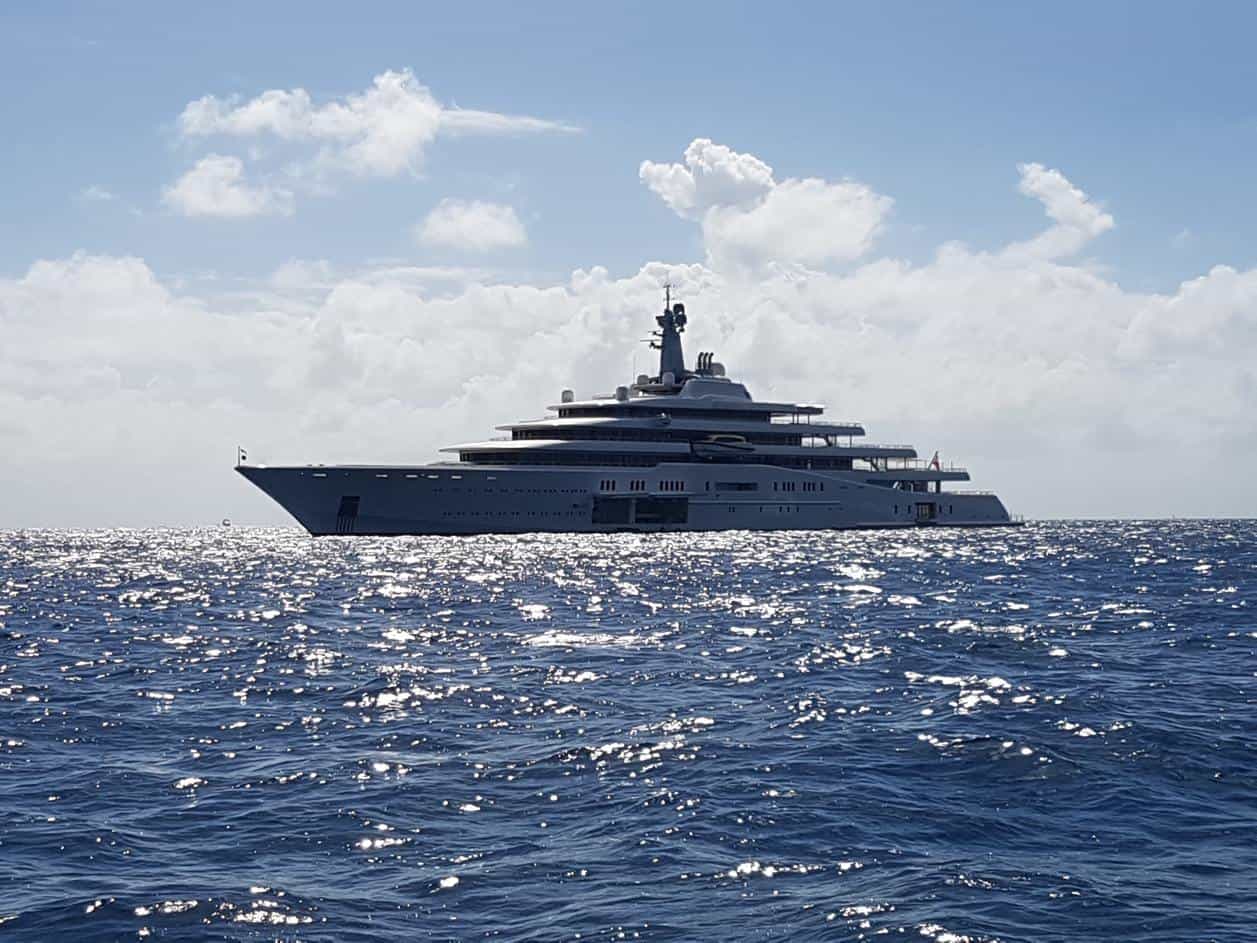 It sounds unbelievable but before long we find The perfect spot to   anchor: on sand near the pier. We drop  35 meters of chain and for safety put a  second anchor, the Fortress. We  swim, eat a snack,  then lower the inflatable dinghy,  prepare it and  leave for the Capitainerie, hoping to make it before  it's closing time.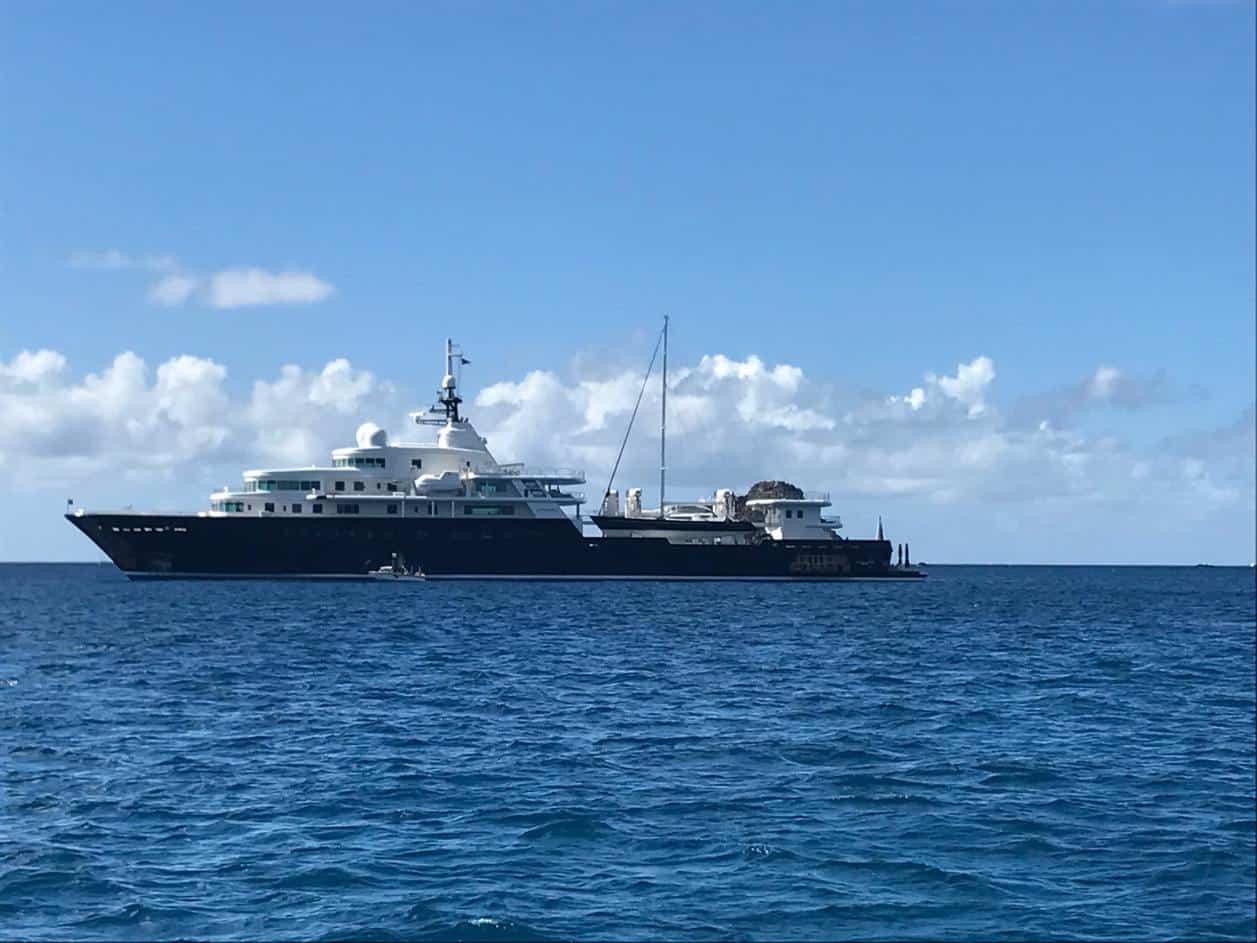 January 3 –   Dan's arrival
Our friend Dan arrives today with the 15.30 flight and we must  find a way to pick him up from the airport. We are still anchored in the same convenient spot, over  turquoise waters with nice corals   and beautiful fish close by, but the swell is big, and Filizi is swinging  badly. We've been working for the presentation all morning and realising  the time, we take the tender and hurry to the harbor. We lock the boat at the pier near Le Select and  run to the nearest car rental place, Barthloc . We ask the man behind the counter for a car.
-"Unfortunately I have no car available at the moment. I will have one later today, at 17.00, if you're interested. "
-"How much does it cost? I asked him
– "140 EUR  per day" he said and showed us a Mini Cooper. I felt dizzy!
– "Do you have other cars at a  lower price?"
– "We do, with 90 euros per day,  but I don't know when we'll  have one available" he says showing us a  tiny car on a brochure.
Disappointed, we say merci and  leave in a hurry, as our friend Dan arrives in 30 minutes.
– "We'll hitchhike to the airport" Yorgos says. He raises his hand and the first passing car  stops! After all this is Saint Barth.
– «A l'aeroport, s'il vous plait?" he asks the driver.
The driver, a young black  girl tell us to get into the car.
Arriving at the airport we see an AVIS car rental sign. To keep it brief, we rent  a brand new Fiat 500 cabrio for two days with only 90 euros! One should have one's eyes open.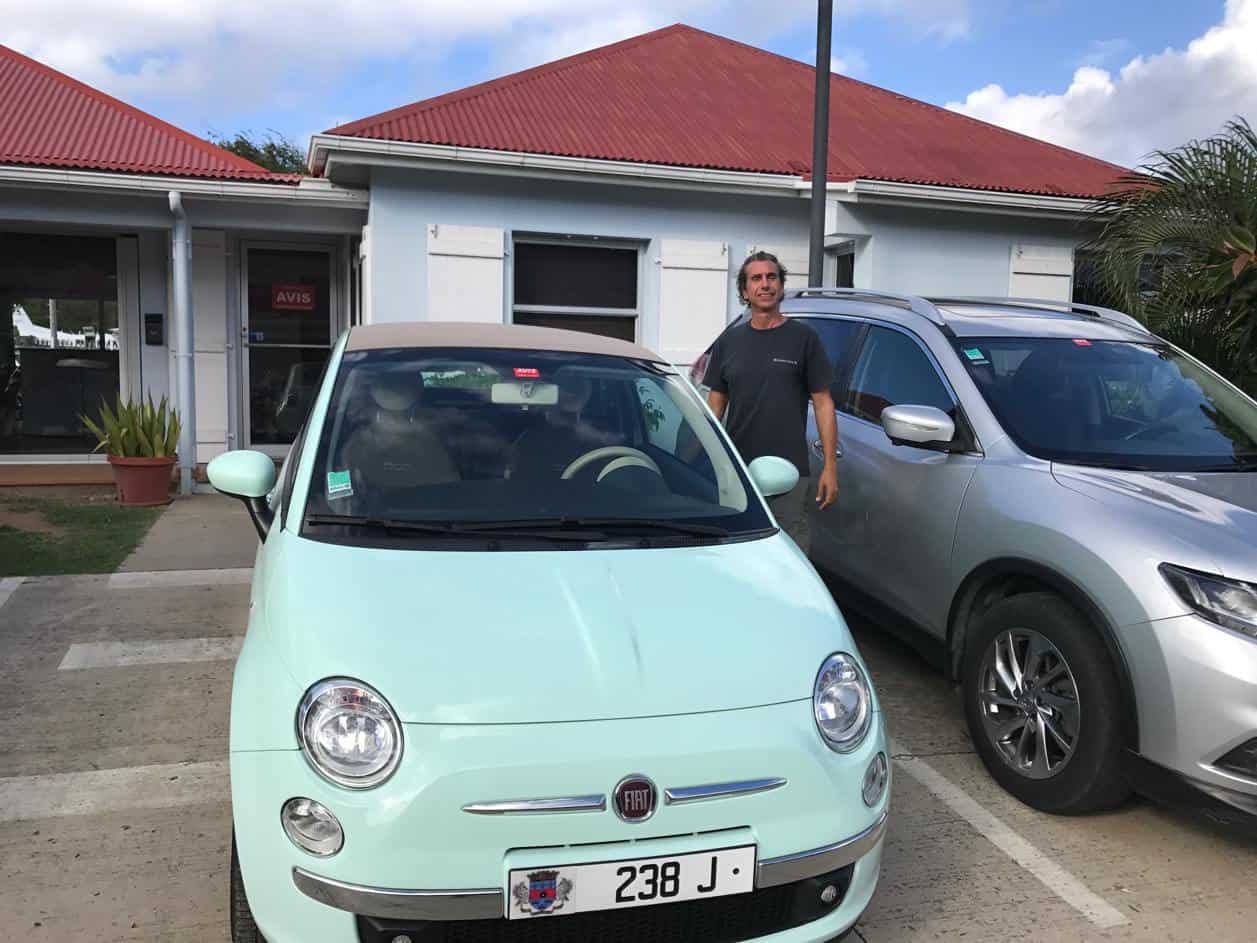 We walk towards the airport. The small plane  makes an impressive dive on the rather short runway ten minutes before  schedule. In a few minutes we are embracing our dear friend. We have six beautiful summer days to spend together and that's lovely. We  stop at Marche U for supplies and then head to our  floating home.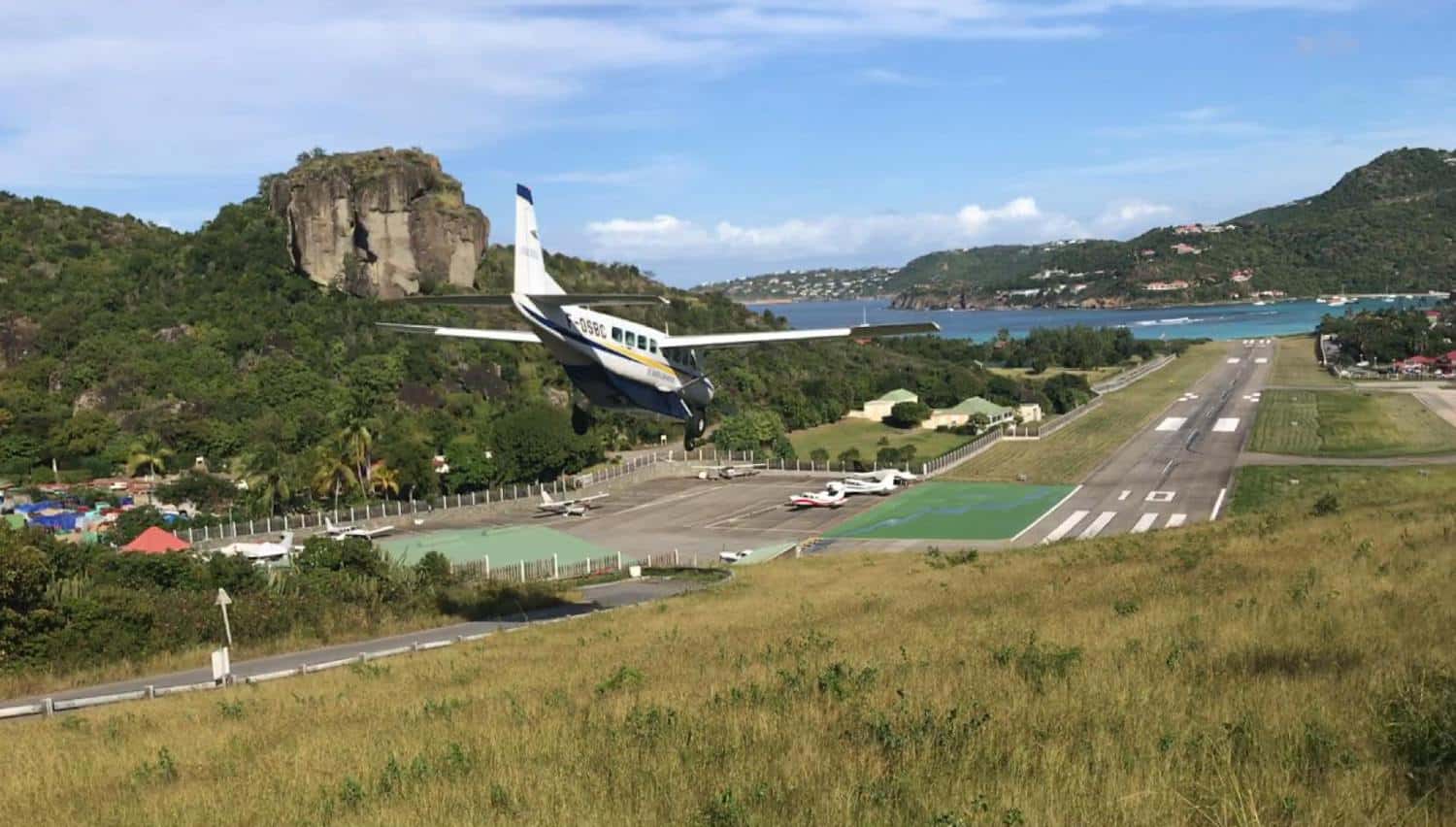 Back in Filizi Dan opens his suitcase and it's like  Santa Claus  arrived 3 days later. Apart from the Iridium and a small vacuum cleaner we had ordered through AMAZON, he  has brought us wonderful gifts: three books about the Galapagos Islands and our favorite chocolates !!!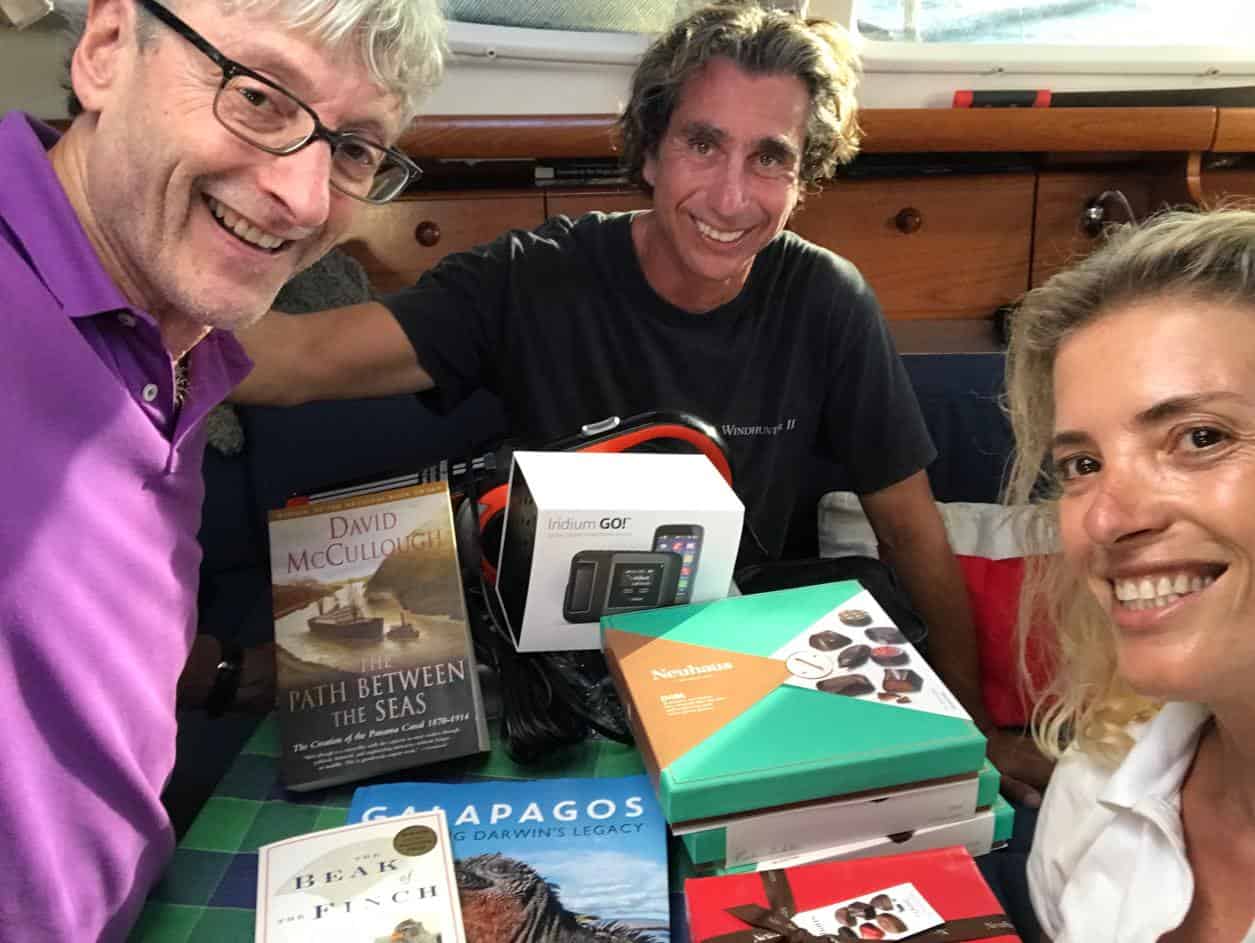 17.00 We  all go snorkelling close to Filizi. I come back a bit earlier to prepare something to eat,  avocado  salad, a plate of cheese and delicious hummus. We sit in the cockpit and eat. Filizi is shaking like a nutshell with the big swell and I worry that  our friend may suffer from this. I  ask him.
– "No problem! There's a little swell but it's OK" he answers. That is an understatement. Amazing man our friend …
Meeting with Jean-Pierre's  sailor friends
18.30 We follow Jean-Pierre up the stairs to the private room in GYC. We find three people already there. First we met  Rachel, an Englishwoman, we exchange handshakes and she explains that her husband would come a bit later. The second couple are French. The  man is in his early 60s and he's blond with soft grey eyes. His beautiful wife is called Geraldine. Jean-Pierre,  acting as a host, urges us to introduce ourselves and he asks  Philippe to begin. He starts talking and we realize that we are chatting with a living legend: the French sailor Philippe Poupon. My emotions are strong.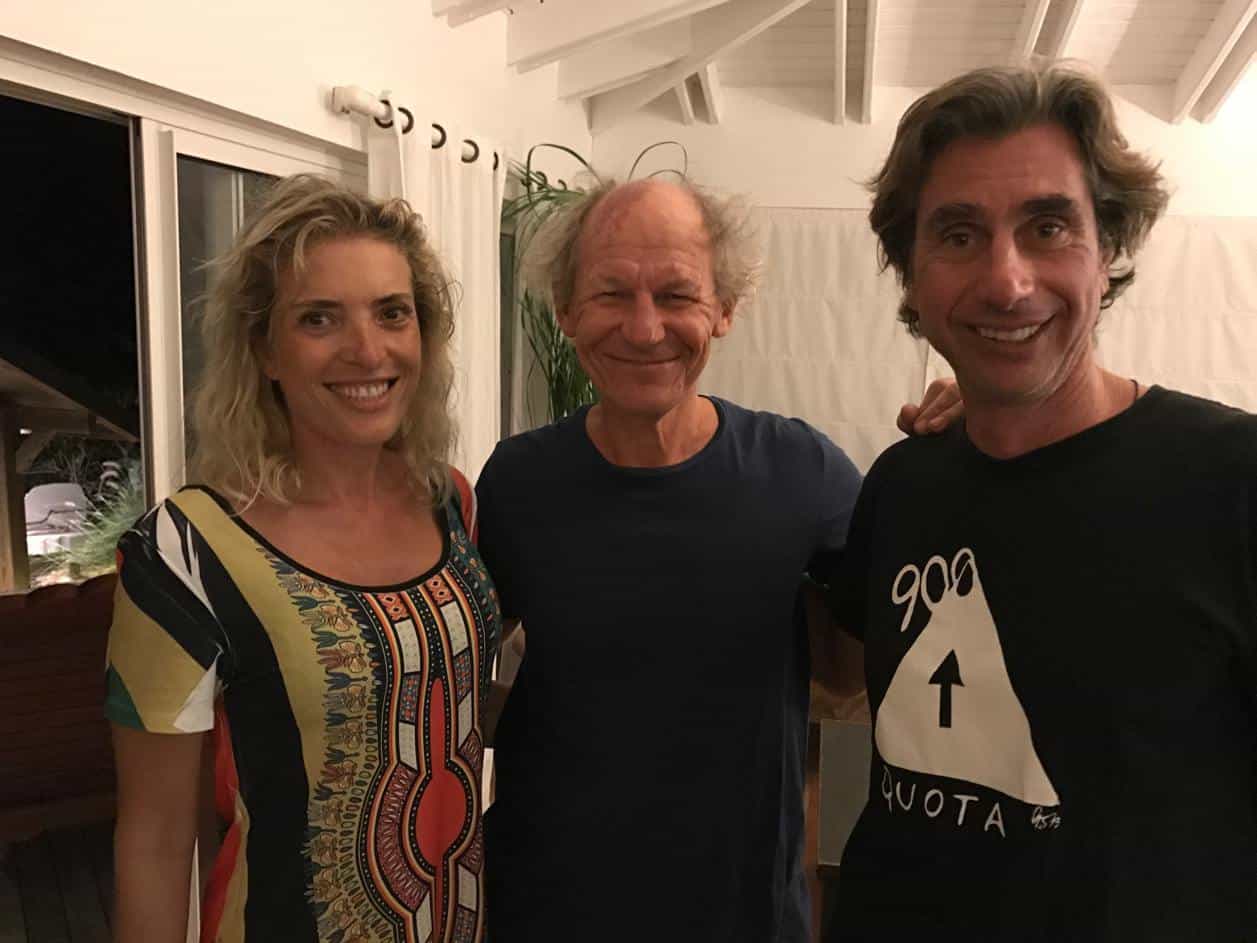 Philippe Poupon and  the team of Eric Tabarly, won the first place in the Triangle Atlantique with Pen DuickIV boat in 1975. In 1982, 1985 and 1995 he won first place in – France's favourite  solo sailing race –Solitaire du Figaro. This is a race  for great athletes,  as I was reading  just last week in Ellen Mac Arthur's  amazing book Taking on the World.  In 1986 he won  Route du Rhum (solo crossing from France to Guadeloupe), 1987  he broke the speed record crossing the Atlantic and in '88 he came first in the Transat. In 1989 he took part in the first Vandee Globe but his boat capsized hit by monster wave. Three boats rushed to his rescue and Loick Peyron (Winner of Rhoute du Rhum 2014 and holder of the race record) reached him first. In 1990 he won 2nd place in Rhoute de Rhum and in 1992 he finished 3rd in Vandee Globe. In the recent years, along with his wife Geraldine, their children and their little dog they traveled  with their boat Fleur Australe from the North to the South Pole, in a campaign to increase  public awareness about Ocean conservation.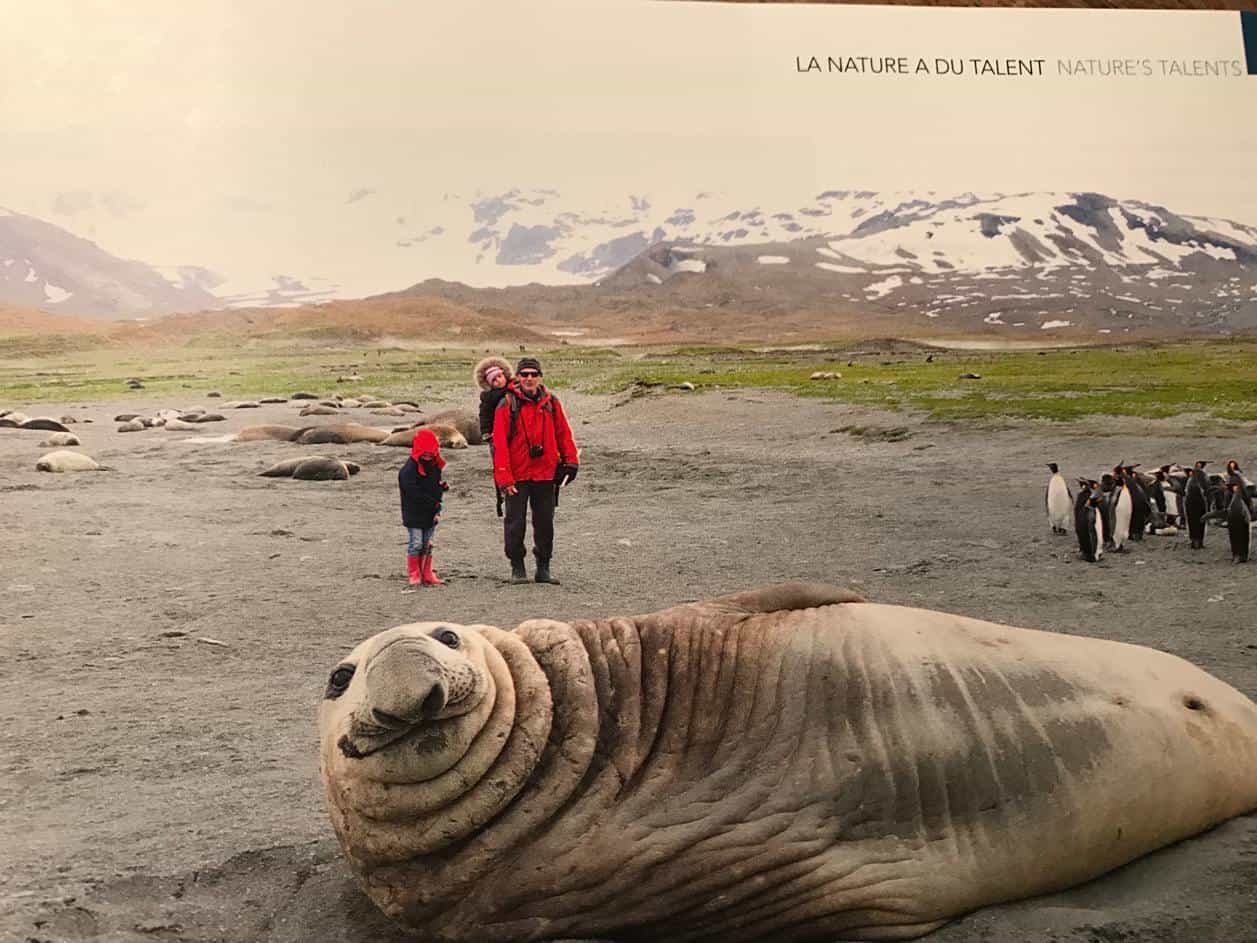 Poupon's wife  Geraldine Danon,  a successful actress in France, has assumed the role of film director and cameraman. Their journey has become a series of documentaries for the French television:

Jean-Pierre asked Philippe how he started  sailing.
– "As soon as I was born, I fell into the sea," he jokes. I ask him what attracts him to do solo races,  all alone around the world.
– "I prefer to have full  responsibility for my mistakes," he says with a smile.
I'm contemplating on the adventures he must have lived, sailing alone  in the unpredictable South Seas and I get the chills. Geraldine talks about their children and how they study their school lessons living on board. Fortunately for the french sailors,  their country's ministry of education has a special department for learning at home.
Later we chat with Rachel, who's sitting beside me. Her father was a cartographer of the British Navy and spent her childhood on a boat at the Turks and Caikos, British  islands near the Bahamas, very isolated at the time. Rachel's husband, named Philip too but with an English spelling, enters the room. Together, they tell us their story and how they left England and their jobs, bought a small sailing boat  and traveled for years. Beautiful…
Time has passed and the Poupons must leave. I'm sad because we didn't have enough time to talk  but  then Geraldine, invites us all  at their home for dinner two days later. I tried hard to restrain myself and not  hug and kiss her.
Saturday 7 January 2017 – Shell Beach
-Day Presentation in Gustavia Yacht Club.
06.00 I woke up just before dawn today – I love this hour of the day. Yorgos and Dan are still sleeping so I make my coffee quietly not to wake them. I turn off the anchor light and go out to the cockpit. A light rain falls and the temperature is delicious. Today we'll make the presentation at GYC.  Strangely I feel  no stress.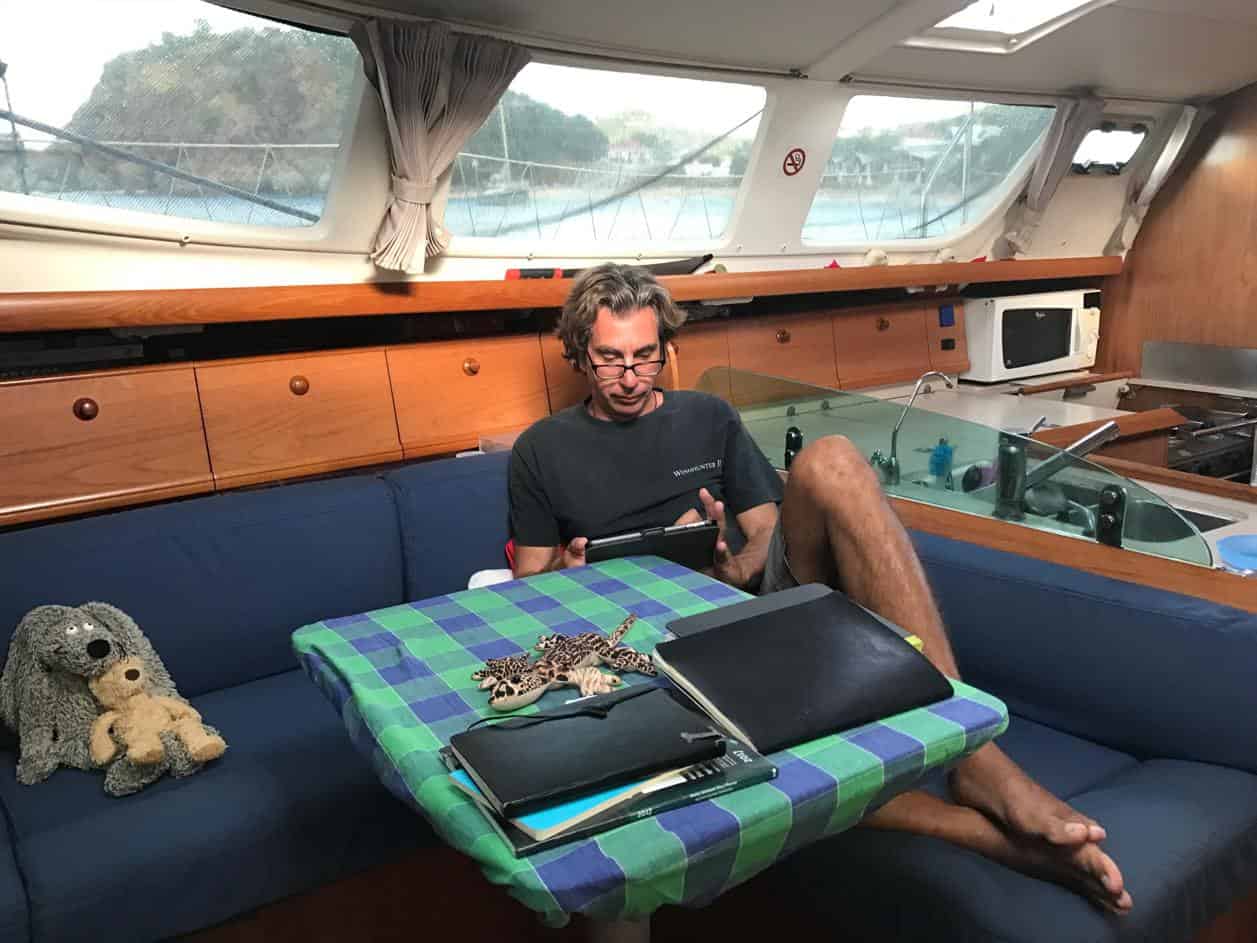 A few days ago Captain-Yorgos finished with the editing so now we have a  35 min film: the journey from Greece to the Caribbean and the places we have visited here.  I love his new film,  my  darling has a talent  making movies. As for me, I prepared the speech. I think we are ready.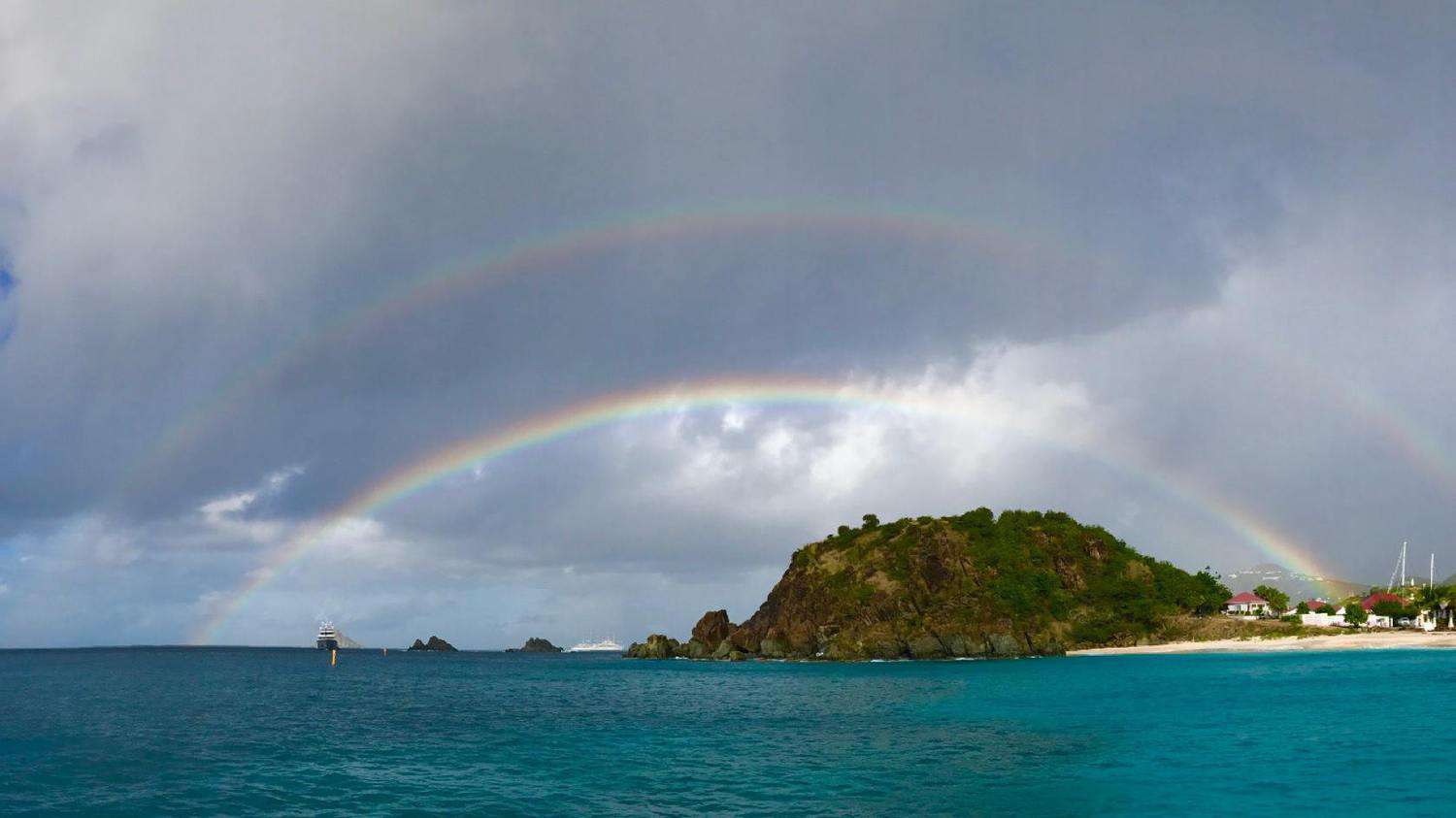 The sun rises  over the hill, sending warm rays on the golden sand, the pink seashells that cover it and the smooth black rocks.  The drizzle continues and  a double rainbow formes in the sky above. I know this rainbow, we  meet quite often lately…  I take one more picture . The clouds hide the sun, and the fragile prism in the sky disappears.
In a while the rainbow reappears. Now, under one edge  lies a huge  motoryacht and on the other a catamaran. I take the beautiful  picture and  think what a great idea it would be  to find both shipowner's email addresses and send them the beautiful photos. I wish someone  send us a picture of Filizi under a rainbow …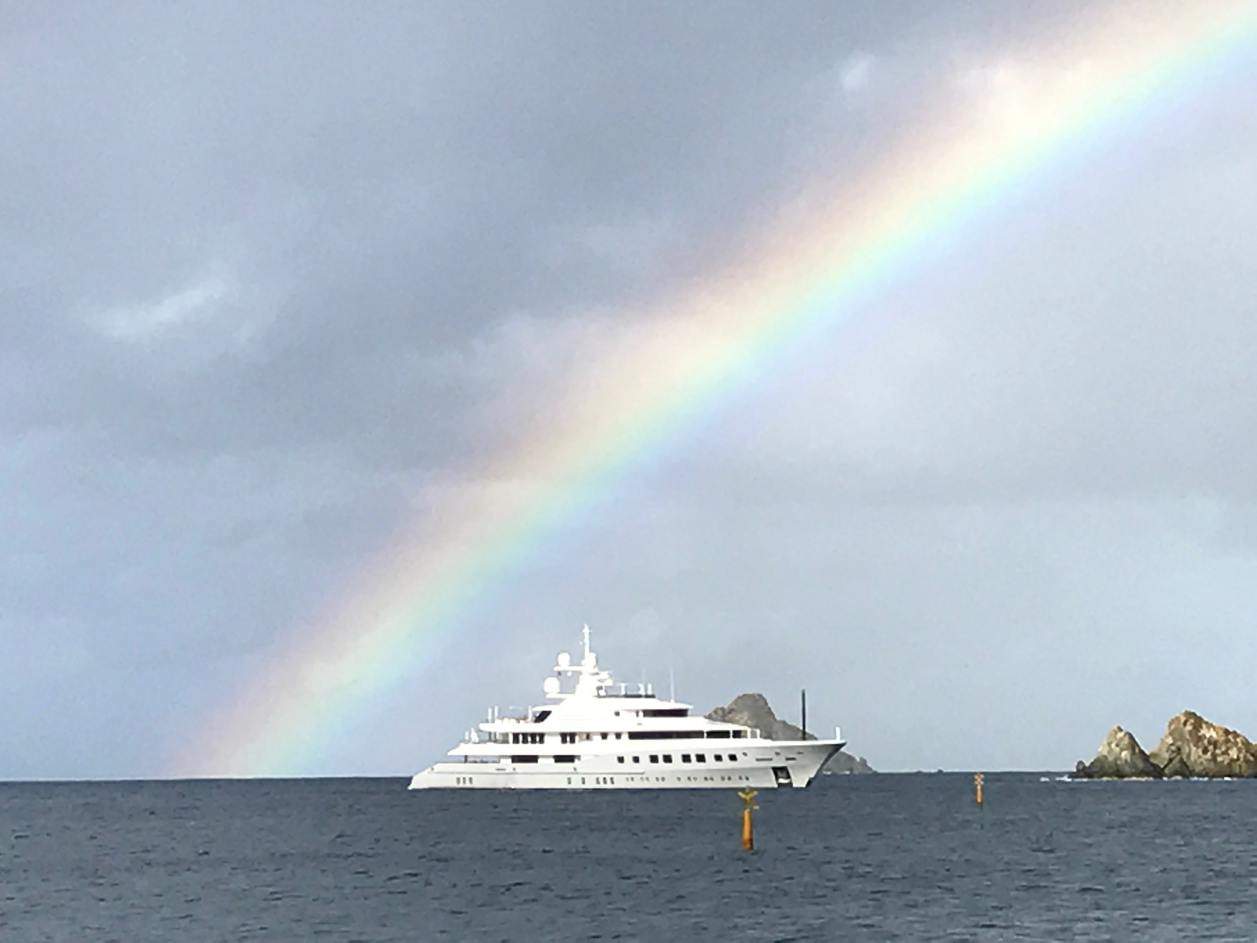 07.30 Dan and my captain  wake up and I make fresh Greek coffee for all of us. We all sit  in the cockpit. Shell beach is  usually deserted at this early hour except for the frequent photo shootings.  At the nearby rocks, a young, beautiful  model, is  posing to the camera. Further  away, a large black zociac loaded with sunbeds and umbrellas, is trying to approach the beach. Two young men, dressed  with beige shorts and white shirts (surely a crew)  are trying to hold it,  while the breaking waves  are trying to capsize the boat.  The crew  overcome the power of the waves and soon  sunbeds, umbrellas and matching towels are set on the sandy beach. Maybe they come from the motoryacht of the rainbow, I think to myself. Yorgo brings the binoculars. I let the boys  monitor  the photo shooting and go swimming out to the beach. I guessed right, the crew, came the motor yacht under the rainbow. I give  our email address to crew and then swim to the  catamaran and do the same. As  the Indians say,  Good should be shared because that is nice.
Back in Filizi  we have a guest. William, Stelios' captain has came for a visit bringing us fresh delicacies from the bakery. Until I get back Yorgo has already prepared a magnificent breakfast. We eat croissants, baguettes, cheeses, prosciuto, honey, tahin and almonds. William has a great English  humor and his knowledge about the sea is enormous as he has  sailed in the most important regattas in the world. Time flies. William promises to come back and show us splicing techniques, and he  swims  to the beach. Dan turns on his laptop and starts working. And so do we.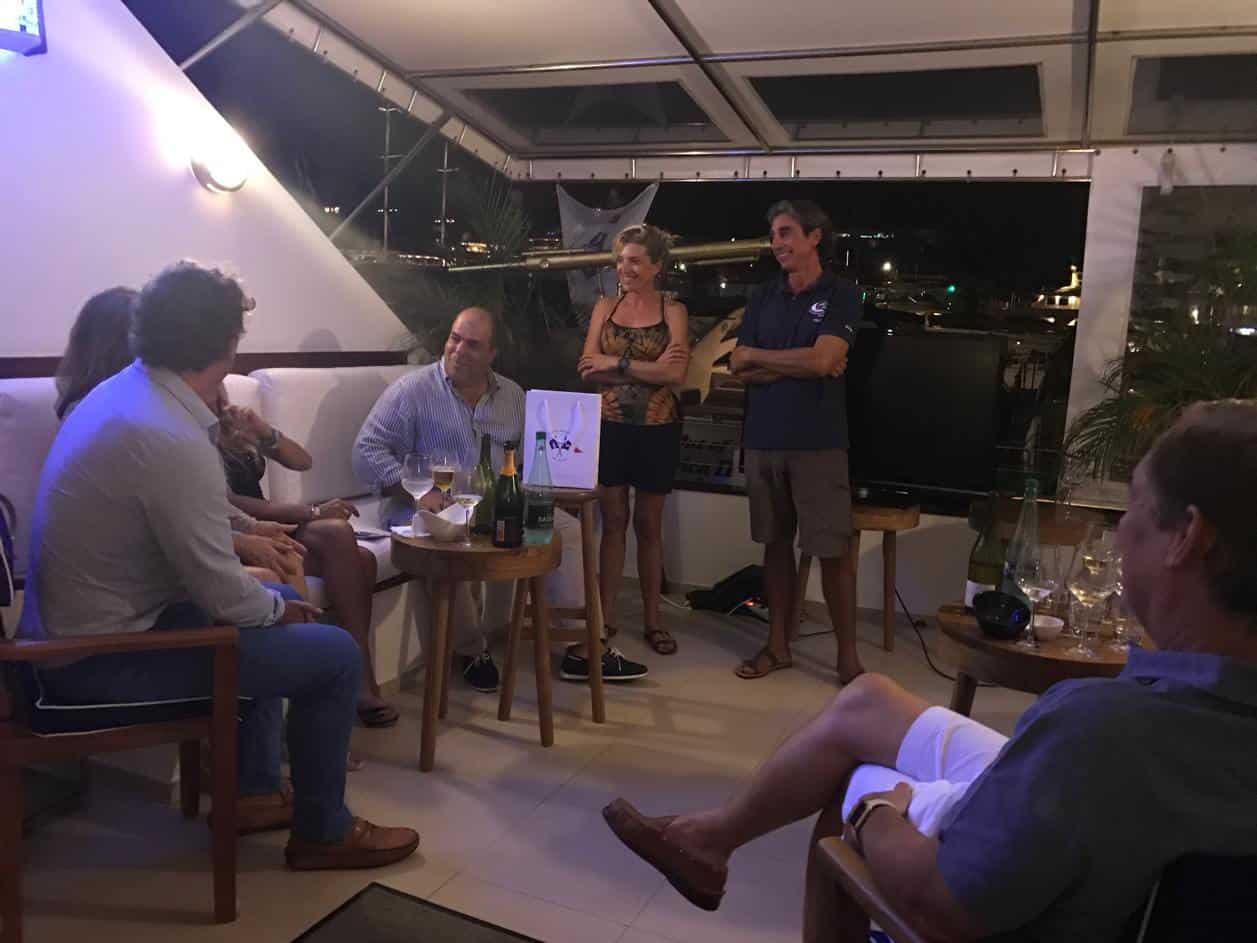 17.15 We go to the beach with the dinghy and hurry to the Club House.  The distances are minimal so  we arrive after five minutes. The large TV screen  is set  on the balcony and Valia, Stelios' assistant, has connected it with a  laptop. Xavier serves trays with canapé  at the tables. Yorgo and I, tests the best spot to stand. Stelios  seems rather silent and preoccupied. We rearrange the seats, but in fact we don't have  much to do,  the place is  small and perfectly arranged. Gradually people gather, most of whom we've already met. Yiorgos welcomes  and greets everyone. I follow closely, somewhat more shy. The place is now full. I give my cell phone to Dan, asking him to take pictures. Stelios looks at us and makes a gesture: Let's start!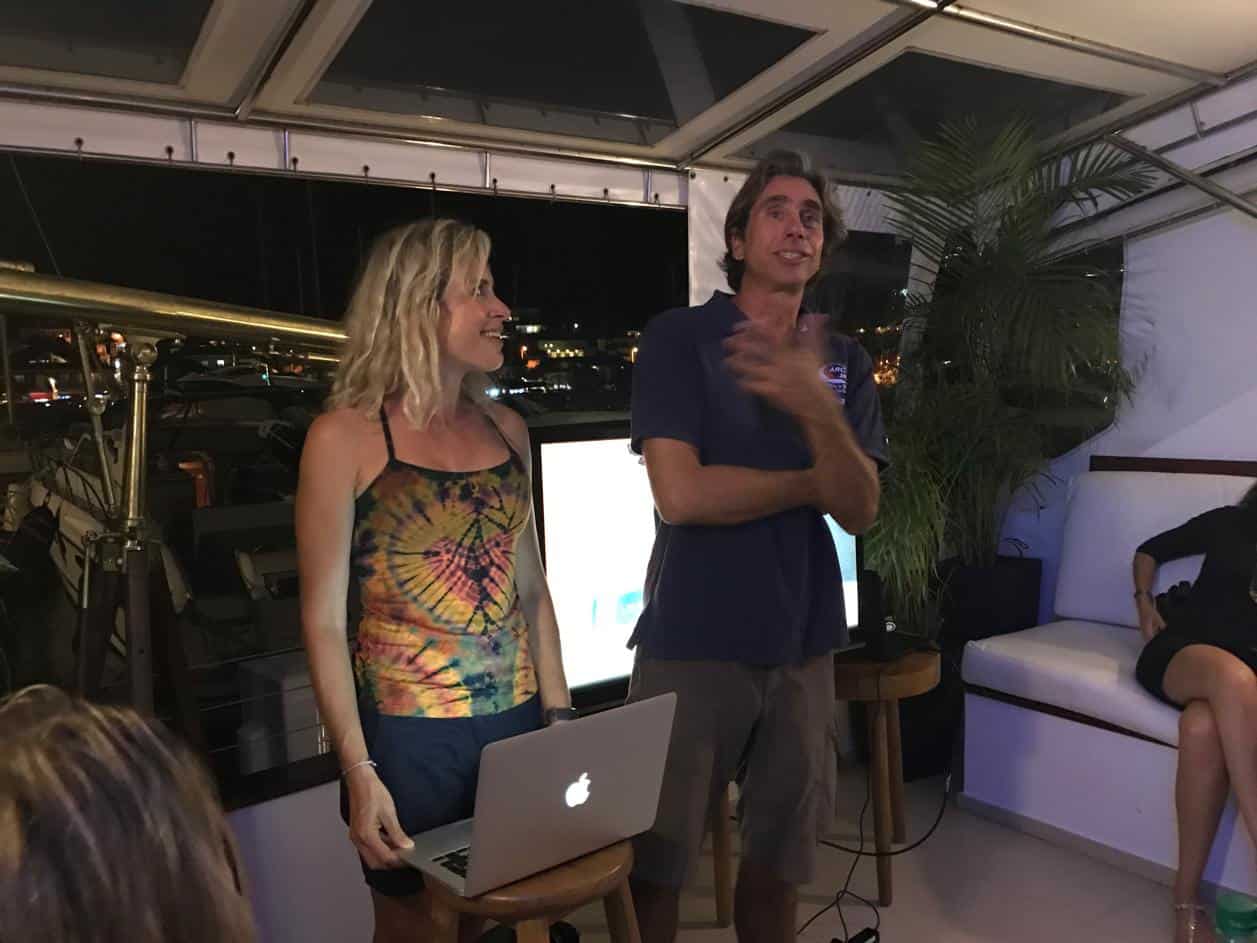 He  welcomes the club members and makes an introduction. He then  asks us to continue. Yorgos begins
-"Welcome. My name is George Charakoglou "
– "My name is Karina Sandri – Charakoglou"
– "Karina is the chief mate, cook, maid, doctor, nurse, musician and love of my life"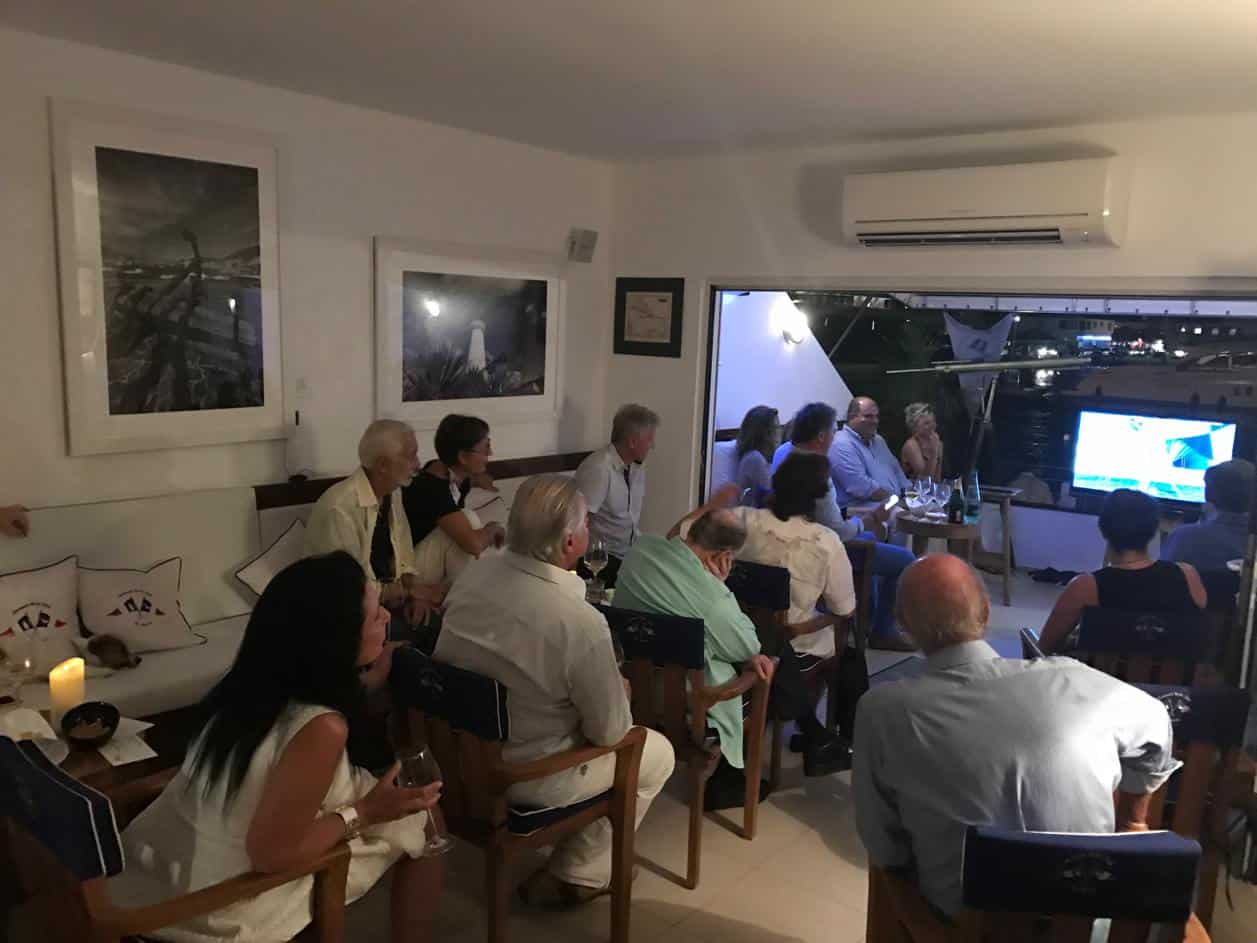 – "George is my captain, engineer, electrician, carpenter, master and commander and great baker in  Filizi"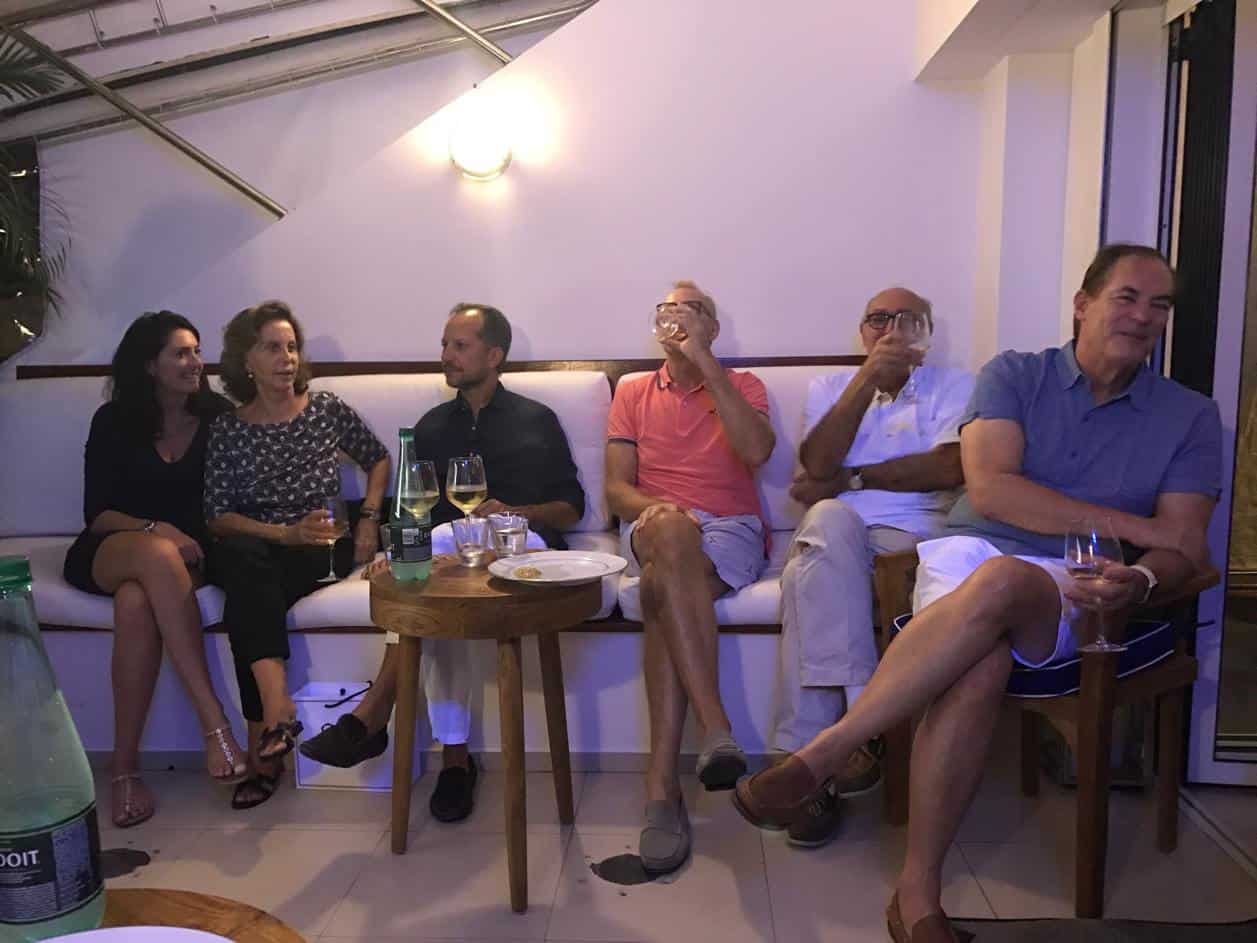 The atmosphere is warmer. We talk about  us, about our trip  here. We explain how the idea of ​​circumnavigation of the earth came to our lives. After a while, the film begins. Stelios , sitting next  to me asks me in a low voice:
– "Tell me Karina,  the duration of the film is 35 minutes?" I answer yes knowing that he is concerned  with the movie being too long.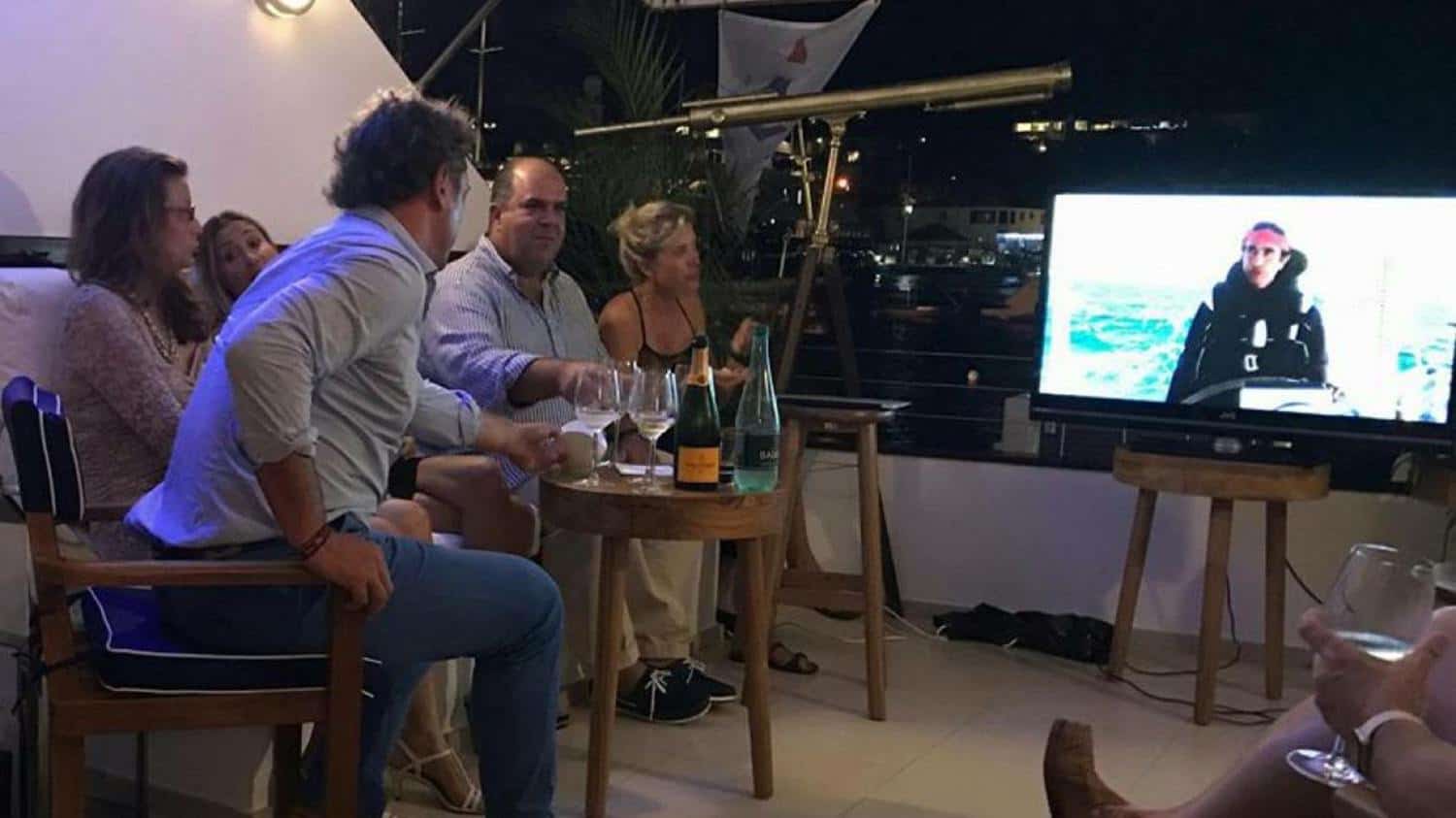 Time passes the guests are watching  the film with  interest and joy. Most of them are smiling, making comments and exclamations. I am happy and Yorgos, sitting opposite to me looks the same. Once the projection ends they all applaud and cheer. I feel my cheeks turning red. Stelios is obviously content and happy and that's great. The guests starting asking us questions, the discussion continues with interest and fun.  The predetermined duration of the presentation has long  passed though and the club's doors must open .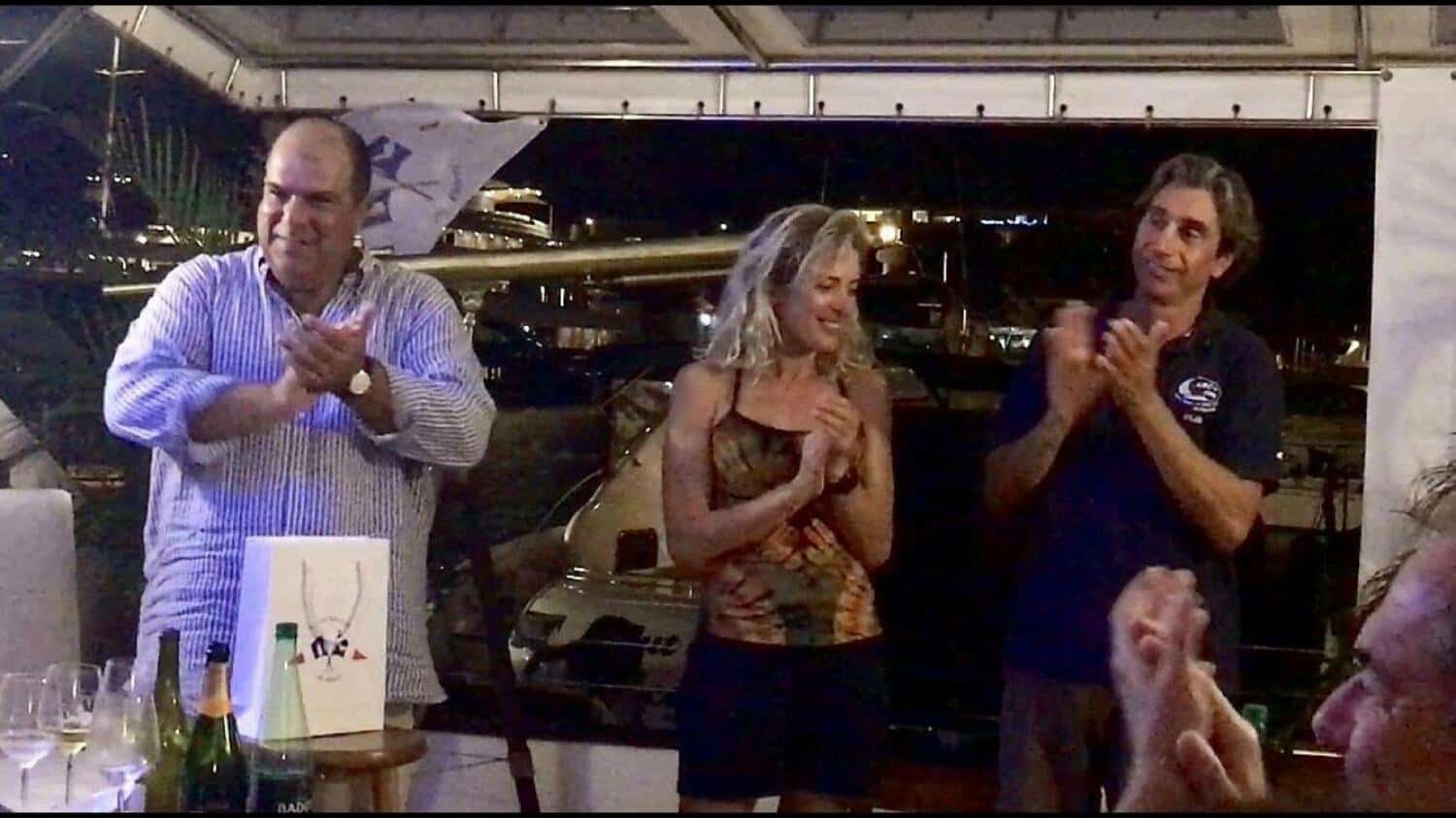 Stelios thanks us and closes the night giving  a gift to Filizi, a flag of Gustavia Yacht Club  and to me a beautiful GYC scarf. The guests are applauding warmly. I see in their faces, in their eyes  that they really enjoyed the journey, that we traveled all together tonight.  And this is a really great feeling.
We thank them all from our hearts