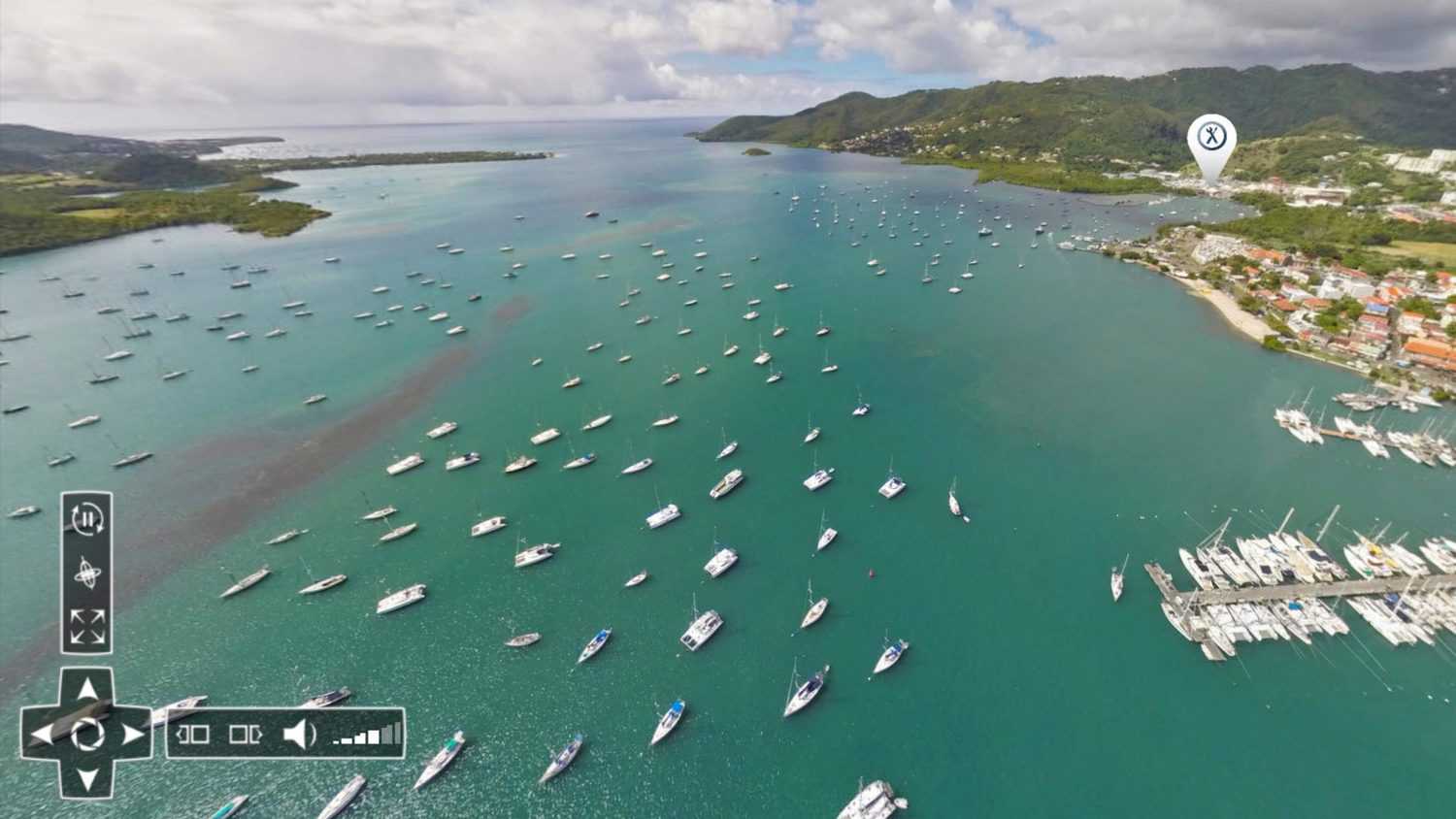 February 20, 2016 Marin, Martinique.
Filizi is at anchor off the marina while Yiorgos and I, we are out on land with the dinghy. The day is cloudy, hot with frequent showers and we are walking, along with Gaeton the rigger, towards Caraibe Marine, a chandlery shop, looking to find a spare part. And so we walking and are chatting with him about the repair of our in-must furling when suddenly,  Gaeton apologizes and runs towards a woman. The woman is slim, petite. She is wearing shorts, a jacket and it's  hood covers  her head. I wonder why she wears so many clothes  on a hot day like this.
When Gaeton returns, I ask who she is –  a teenager or an older woman I  really could not tell.
– "This  woman is extraordinary ," he replies. "Birgitt  arrived  yesterday in Martinique.  She did  the Atlantic passage  singlehanded, with a boat just 21 feet. And she is 71 years old! "
His words filled me with excitement
– "We must talk with this woman. Go ahead and I'll catch up with you, "I said and run.
When I reached her and said hello, she looked at me and laughed
-"You? I knew  we'd meet somehow. I saw  you yesterday afternoon walking at the dock, wearing  a pink blouse and with your pink shopping trolley and I thought that we are soul mates. You see, pink is the color of my boat."
I was charmed with her warm, bright eyes. I introduced myself, explained that we sailors  from Greece and asked if  she would like to get together someday. She accepted with pleasure, explained where her little boat – POCOLOCO –  was moored and we set an appointment
When we went to meet her, the next day, I  saw that  Pocoloco is pink indeed. Pink and turquoise!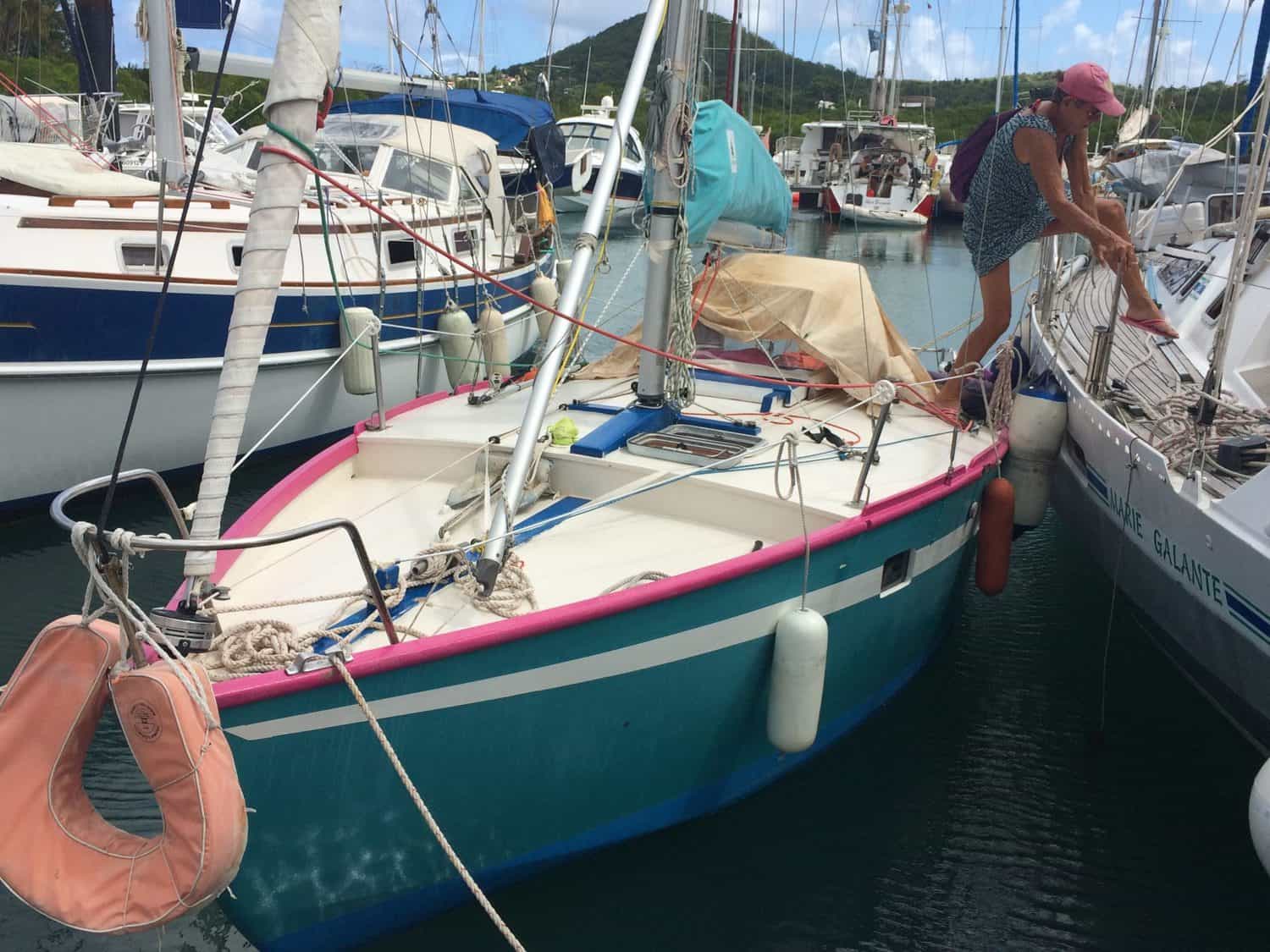 We went to our favourite place in marina du Marin, the Coco-a-Rum and it was very quiet at that time, 17.00. The sun is already quite low in the horizon on his way for a magnificent sunset. Sipping our cold drinks we get  to know  Birgitt. She is born in Germany but  feels  a European. Her boat is a Muscadet 21,26 '(6,48 m.) made in France in the '70s.
– "A small sailboat with  great performance." she explains. We are excited to talk to her and  bombard her with questions. She tell us her story:
-"The first time in my life that I set foot on a sailboat I was already 45 years old.  I immediately loved sailing, I was captured. At that time, I was divorced, my  children ( a son and a daughter) were studying abroad and had no obligations. Up until then, I thought that sailing was a sport for the rich and  I did not have so much myself. But I had to learn how to sail and the only way to do that was by  working on a sailboat.  And that's exactly what I  did. After five years  I could sail the boat singlehanded.  At some point, I was in Panama, in Shelter Bay Marina shipyard. There, neglected and in poor condition,  I saw a small boat, 6 meters long with a sign "For sale". It was love at first sight, even though at first  I did not even think  I could buy her. But the idea grew in my mind. For the next  years I worked and saved money, while the little boat was still not sold in the shipyard. Like she was waiting for me. So, after a while she was mine, my first boat! I repaired her by hard personal work. As I was the only woman, living aboard, working on my boat  in the shipyard,  several guys  suggested that I should quit my old boat and travel with them in their comfortable yachts. But I wanted to be captain of my own boat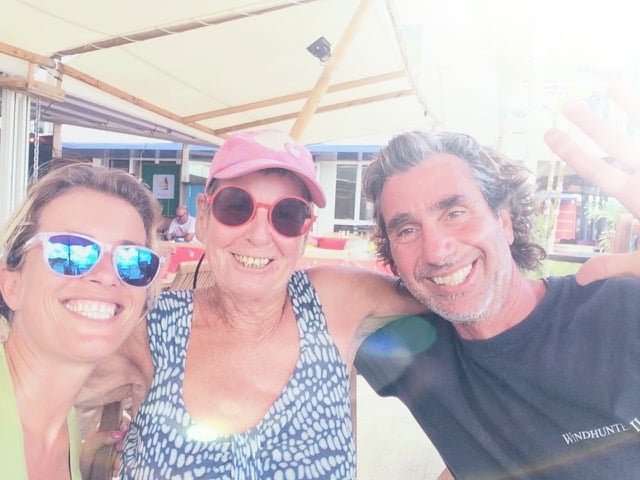 Two years later, I was ready to  sail away. I traveled to Europe and back, and from Panama to  Tierra del Fuego. The south seas are really tricky. I was sailing with a good friend there  and we met such a horrible  weather that we almost sunk. But, as you see, we were saved. "
Yiorgos  asks her about the Atlantic crossing.
– "It was wonderful, as always," she answers. "Unfortunately, after Cavo Verde the furling of my genoa  was stuck at 1/3 so thereafter  I was  sailing  like I had a storm jib on. But  I can't complain, I was sailing slowly,  enjoying the journey. You must realise that  Pocoloco being so small, I hold  the tiller with one hand and the other is touching the sea.  It is a completely different feeling than in a big yacht. It wasn't the first time I cross the Atlantic after all, it was the seventh. Now, I'm waiting for Gaeton the rigger to repair my furling and go. "
I ask her how she sleeps when traveling alone.
– "I use the egg clock" she says laughing, "I turn it on and close my eyes for 10 minutes.  When it starts ringing, I open my eyes, check the sails and  I turn it on again and that's how it goes"
She makes it sound so simple! But it isn't …
I look at her wounded, chapped  lips and as if she read my mind, she continues:
– "Two days ago, as I was about 70 miles from Martinique, I heard an something like an emergency siren and with the corner of my eye I saw  a red fishing boat in the distance. I tried to get close to them but the waves were huge so I lost them. I spent the whole day searching the horizon to locate them and  got sunburned. And  my arrival at Martinique was delayed for almost 24 hours" she says simply.
Our admiration for this woman grows word by word. She  makes the difficult seem easy and the great, obvious.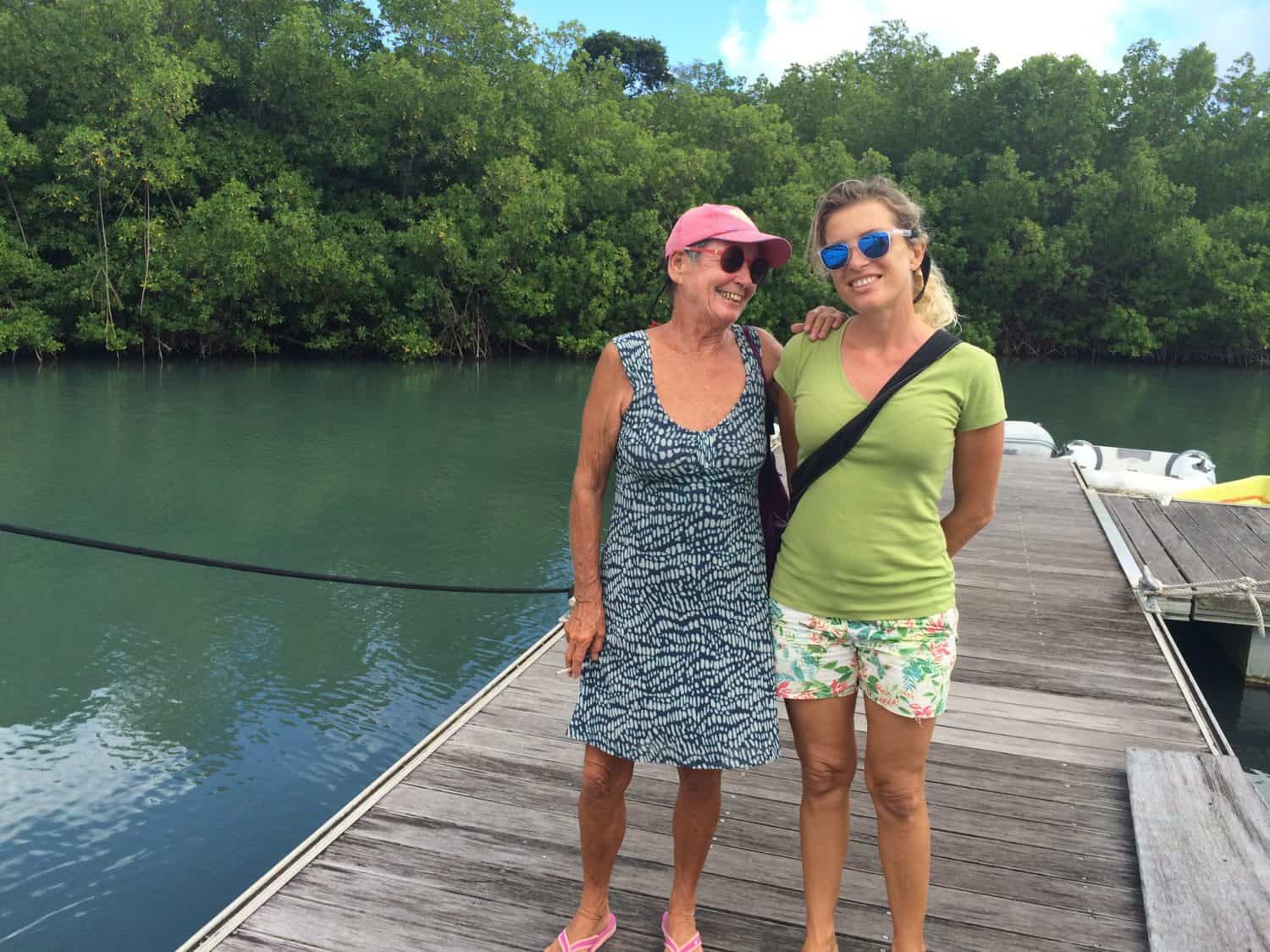 Yiorgos asks her what kind of  autopilot she uses. She pauses, rolls  a cigarette and  takes a deep drag.
– "I don't have an autopilot, Yiorgos. Not any more. It was broken  and I never repaired it. Say, do you have a map of Panama; For Shelter Bay Marina in particular? " she asks as if it's the most simple thing in the world.
– "Yes, we do have maps on the ipad. I can send it to you by email. Is this where you are heading; "
-"Yes. The owner of the marina is a friend.  I will make a stopover there  and then continue  to Tahiti. I'm going  there to meet my newborn  grandchild, the second one! "
– "How is that?"  we ask surprised and she explains:
– "Years ago, my son had some trouble at the university and he was  disappointed and melancholic. To cheer him up, I suggested to make a long sailing trip together. So, we crossed the Atlantic,  the Panama Canal and arrived in Moorea, an island of French Polynesia, close to Tahiti (pp 4,470 nautical miles from Panama!). Needless to say that by then he was feeling great. He loved Moorea so much  that he decided to stay  there. And there after  a while, he met the love of his life, his wife and now they just had their second child, "she says and her eyes shine.
– "Will you stay there for long?" I ask her
-"Well, I think so, yes! It's that easy going back and forth. "
– "Perhaps we'll see you there, then. We are planing to sail the Pacific,  we'll probably arrive to Tahiti in the spring of 2017 " Yiorgos says.
She  searches her backpack, finds a notebook and draws a map on a page.
"I will be here ! I'll be waiting for you! "
pp: This text was published in  HORC magazine, Istioploikos Kosmos (issue 127, November- December 2016)