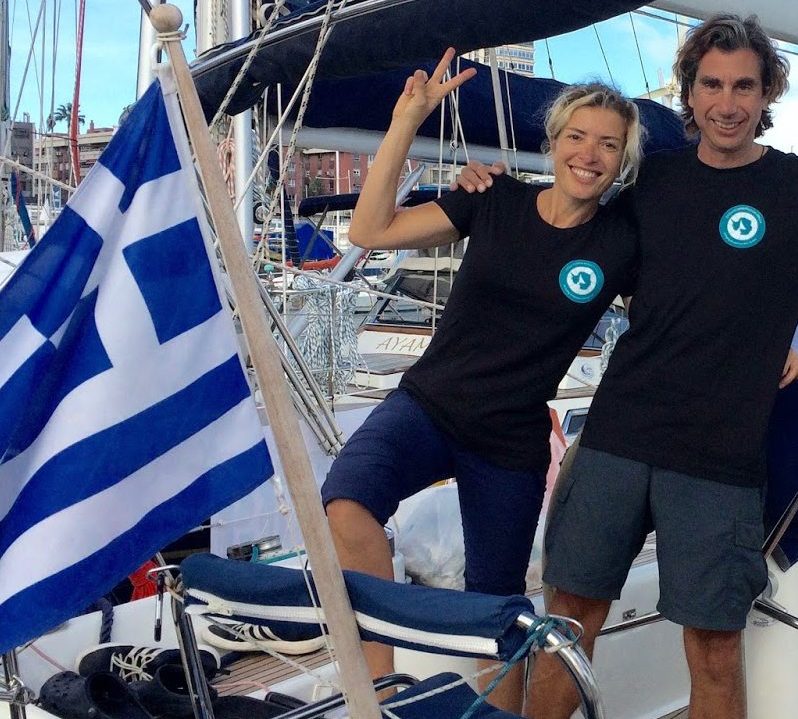 George (Yorgos) Charakoglou
George (Yorgos) grew up in Voula, a quiet suburb of the Athenian riviera. As a kid he had a great love for the sea and traveling with his older brother's sailboat was a joy and a great school for him.
At 12 he started sailing classes with laser dinghies and by the age of 15, he had his Open Sea Sailing Diploma from the Hellenic Offshore Racing Club (HORC), where one of his teachers was the circumnavigator Savas Georgiou. For many years he sailed the Greek Seas, always making plans for long voyages and exotic destinations.
He studied marketing management in DEREE College and T.E.I. of Piraeus. He worked in the family commercial business for 20 years. In 2008, seeing his professional life on a new perspective, he left the company and started working on real estate, which he does until now.
Karina (Aikaterini) Sandri
She grew up in Pireaus, the port of Athens and spent her childhood years in the small fishing village of Vagia, in Aegina island. At 15 she started windsurfing passionately and from 18 to 23, she sailed all around Greece with a small sailboat.
-"One August summer day when I was 19, we arrived in Milos island after a hard passage with a strong meltemi and there, I met an extraordinary French woman and her husband who had just completed a 20 year circumnavigation of the globe. Enchanted by her aura and the stories of their travels, I immediately knew that this is the life I'd love to live one day"
She studied Computer Science and foreign languages. At 25 she got her Open Sea Sailing Diploma. She worked in various businesses, the last 16 years in Ethnos Newspaper.
In May 2011 she left her job and since then she sails the sea with Filizi
S/Y Filizi
S/Y Filizi is a Jeanneau Sun Odyssey Deck Saloon 43 feet built in 2001. The engine is a Yanmar 75hp.

The Mainsail and genoa is furling and there is a second forestay, wherein upload working jib or jib storm.
Still, it has an asymmetric spinnaker sail for the open. The basal anchor is Delta, and the other two are Britanny and Fortress.Gia energy has turbine Rutland 914i, four solar panels set 330 Watt attach to 20 amperes, Paguro Lombardini generator 6kVA and certainly the alternator of Yanmar.
Water is made with a desalinators 220V attaches 75lt / hour, and a further filter makes drinking the desalination of water which enters the two tanks. The third water tank has become a supplementary fuel tank.
To use navigation plotter, radar and autopilot of Raymarine, iPad with built-in GPS with Navionics maps and Conflict Avoidance System AIS.